Child internet porn 'getting worse' and victims 'younger'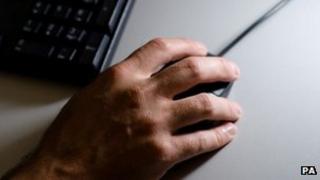 The level of sexual abuse and violence carried out on children whose suffering is posted on the internet "seems to be getting worse", MPs have heard.
Child Exploitation and Online Protection Centre director Peter Davies said victims appeared "to be getting younger and younger".
He told the Culture, Media and Sport Committee the dissemination of pictures of abuse had become "industrialised".
Most victims were under the age of 10, with images including rape, MPs heard.
Mr Davies said the biggest transfer was directly from "peer to peer". But much of the "worst we have seen" was distributed via the "hidden internet", which required special software and evaded search engines - and was also used by criminal gangs to organise the drugs trade.
'No comfort'
Mr Davies said: "What we trying to deal with is appalling aspects of human behaviour to some extent facilitated by the internet."
The showing of the images was "industrialised to a quite remarkable extent".
Approximately half the websites distributing the images were based in the United States, he added.
Mr Davies repeated the Child Exploitation and Online Protection Centre's estimate, given earlier this year, that about 50,000 people in the UK will commit offences "at least to the level of possessing indecent images of children".
He also said: "Victims seem to be getting younger and younger and the level of abuse seems to be getting worse. There's no comfort in any of these details."
Mr Davies told the MPs: "Images are harm in themselves. They are pictures of children being very seriously raped and abused."
Some children were "blackmailed" into performing sex acts, with abusers telling them that pictures would be put online or sent to their families and friends via social media unless they continued to comply, he added.
During the hearing, Susie Hargreaves, chief executive of the Internet Watch Foundation, established by the industry itself, said it was being made aware of about one or two new images a week of child abuse.
The vast majority of pictures were redistributed many, sometimes thousands, of times. Her organisation dealt with some 40,000 reports last year.
Ms Hargreaves added that 81% of the children featured in the images appeared to be under the age of 10.