Cameron pledges to confront EU on red tape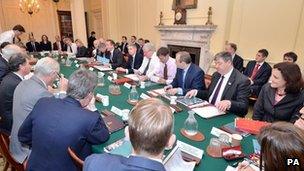 David Cameron has said he will take the fight on red tape to the EU after a report by business leaders found it is costing UK firms billions of pounds.
The prime minister's business taskforce said relaxing the rules on health and safety compliance alone may save £2bn.
Other ideas include simplifying waste collection and chemical regulations and capping fees on digital transactions.
The European Commission said it had already scrapped thousands of rules and more requirements were being reviewed.
Some of the UK's leading business figures, including the bosses of Kingfisher and Diageo, presented the findings of the report to a meeting of the cabinet on Tuesday.
The prime minister said EU rules were too often a "handicap" to firms and Brussels must move "further and faster" to curb them.
The taskforce's report seeks to draw attention to a welter of "burdensome" rules holding back the overall competitiveness of British firms as well as specific issues for exporters, start-ups and those developing new products or expanding.
It came up with a list of 30 major changes to EU regulations or proposals which it said could save UK companies huge sums of money every year and allow them to expand more quickly.
Its recommendations for reform include:
Scrapping the requirement for all SMEs (small and medium enterprises), irrespective of their business, to keep written health and safety assessments
Abandoning plans to force sole traders to pay fees to register to collect and transport waste even in small and harmless quantities
Streamlining "costly and complex" chemicals legislation
Fast-tracking plans for a cap on fees for payment by credit card, online and mobile phone
The report also calls for the EU to adopt a version of the UK's "one-in, two-out rule", where no new regulation can be adopted unless there is an equivalent reduction elsewhere.
Mr Cameron, who commissioned the report after the last meeting of the EU Council in June, said the rules were preventing British business from maximising the benefits of the single market in goods and services.
"This report makes clear that there are lots of simple and practical ways to cut EU red tape and save businesses across Europe tens of billions of euros," he said.
"We must now persuade our European partners and the European Commission to listen to business and to move faster to reform the way Europe regulates."
The prime minister has written to other EU leaders to urge them to commit to "concrete measures" to reduce superfluous regulation when they gather in Brussels next week.
"I will be calling for a clear commitment to sweep away unnecessary burdens and to unleash private sector growth," Mr Cameron said.
BBC political correspondent Robin Brant said the reforms were the ammunition Mr Cameron wanted as he tried to persuade other leaders that Europe needed to deregulate to become far more competitive.
The heads of Marks and Spencer and drinks giant Diageo are among the group that want changes to rules ranging from health and safety to VAT reporting.
Ian Cheshire, the head of retail group Kingfisher, said a "level-playing field" for firms trading across European borders required rules to be introduced fairly.
"European rules start with good ideas but can lose their way when they are implemented. This can have unintended and damaging consequences," he said.
Entrepreneur Dale Murray, another member of the taskforce, said small businesses were "disproportionately" affected by red tape.
"It is disheartening to see a business tied up trying to comply with pointless rules. All businesses want to focus on is the real work of selling more products, making their operations more efficient and employing more people."
Katja Hall, chief policy director of the CBI, said the taskforce "has made significant strides to pinpoint areas of concern for business".
"We don't want a situation where smaller firms are saddled with poorly thought-out EU regulations which impede their ability to grow," she said.
Simon Walker, director general of the Institute of Directors, said its members "too often find their hands bound by European red tape".
He said: "Efforts which could otherwise be spent on innovation and investment are instead exhausted battling complex regulatory burdens."
The European Commission said it "welcomed all ideas" to cut unwanted red tape ahead of next week's summit and was already acting to discourage "gold-plating" of regulations with the addition of additional burdens.
According to the EU's executive arm, 5,590 legal requirements have been scrapped in the past five years, reducing costs for business by more than £27bn, and rules across a range of industries are being reviewed.
European Commission President Jose Manuel Barroso will present his proposals for cutting EU regulation at the European Council next week.
Mr Barroso said: "Common rules are essential to make the single market work properly but I also want to make sure the EU does not meddle where it should not and member states do not add additional burdens.
"If companies have further problems with individual pieces of legislation, the commission will look to resolve them."
Trade unions say Europe must strike a balance between a dynamic economy and social protection.
The TUC has accused Mr Cameron of offering people a "dismal choice" between leaving the EU or "staying in a Europe stripped of rights at work".