Drop EU push, Tory MPs urge Adam Afriyie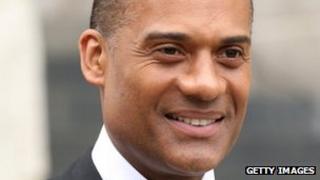 More than 100 Tory MPs have written to their colleague Adam Afriyie urging him to drop his call for a referendum on the UK's European Union membership to be brought forward to next year.
Prime Minister David Cameron has said such a vote will take place in 2017 if his party wins a majority.
But Mr Afriyie has said he will try to force a Commons vote on holding a referendum in October 2014.
He told the BBC he would "push through" to give people a "voice".
The Conservative leadership has dismissed the idea.
Mr Cameron says the proposed 2017 date is necessary to allow time for a full renegotiation of the UK's relationship with Brussels before the public is offered a say on whether to leave or remain in the EU.
But Mr Afriyie has said he will table an amendment to the European Union (Referendum) Bill on Monday, arguing that the next 12 months provide "ample time" for discussions.
'Sense of urgency'
However, 143 of the 147 Conservative MPs first elected to Parliament in 2010 have written to Mr Afriyie, saying: "We believe that the bill before the House provides in its current form the best opportunity to secure this outcome, in part because of its uncomplicated, unambiguous nature. This gives the bill the best chance of progressing through the House.
"So, whilst we recognise the sense of urgency reflected in your amendment, we feel that this will jeopardise the progress of legislation and the prospect of a referendum.
"Knowing that you value and respect the views of colleagues, we hope and request that you withdraw support for the amendment tabled in your name."
But Mr Afriyie refused to back down when he appeared on BBC One's Question Time, saying: "I believe that the British people have to have a say."
He added: "We've got a political elite, a political class who say it's not the right time... I would rather be on the side of the British people than a political elite that just wants to deny them a voice."
Mr Afriyie, MP for Windsor, also said: "I come from a tough background. I was dragged up in Peckham... I've had some challenges in my time. I always push through."
The bill which Mr Afriyie is seeking to amend was tabled by backbench Conservative MP James Wharton in an attempt to enshrine his party leadership's referendum pledge in law. Yet it lacks the support of the Liberal Democrats.
As a private member's bill, it is vulnerable to being delayed by procedural tactics from MPs who oppose it, and will only become law if the government allocates enough parliamentary time for its proponents to overcome any such hurdles.