Taking the heat out of energy rises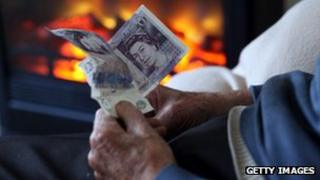 Energy companies are putting their prices up. Labour has seized the agenda and is promising to freeze energy bills. The coalition appears on the back foot.
So what can the government do? It is a question that is causing one or two sweaty brows across Whitehall.
The political response from the Conservatives comes on several levels. The general reply from ministers is to re-emphasise the importance of fixing the economy, creating jobs, and keeping mortgage rates low as the best way of reducing the cost of living across the board.
The holy text for this comes from George Osborne's "the economy's turning the corner" speech on 9 September, when he said: "You don't solve the pressure on cost of living with simply a shopping list of interventions and government regulation.
"Of course, there are important improvements we can make to the scale of energy and water bills, the cost of housing, the fees paid for everyday financial services, the expense of rail and road travel.
"These are a burden on families - and we are doing everything we can do to reduce their cost - with more to come this autumn...
"But by themselves these changes don't amount to an economic policy. And to focus exclusively on these things alone, important as they are, is to miss the wood for the trees."
Explaining = losing
The specific response on energy prices is to attack Labour's record in government (underinvestment, fewer companies), its current proposals for a price freeze (a market-distorting con, unworkable because of global price changes, inconsistent with the party's decarbonisation targets) and its plans for the future (overregulation, not enough competition).
But, as George Bush's former political adviser Karl Rove once said, "if you are explaining, you are losing" and ministers also accept that they too need to have something tangible to offer energy consumers.
So today the energy minister Greg Barker was emphasising how millions of people living in vulnerable homes will get more than £100 this year to help with their bills under a scheme called the Warm Home Discount.
The government knows that that is not enough. So official eyes are turning to those policies which are designed to help tackle climate change but which also add 9% - about £112 - each year to the average bill.
For example, energy companies subsidise households and businesses that generate their own renewable energy by paying them so-called Feed-in Tariffs. According to statistics from the energy and climate change department, that puts £7 a year on the average bill.
Or there is the Warm Home Discount mentioned above, that adds £11 to your yearly bill, and the European Union's Emissions Trading Scheme - a tax on carbon-intensive electricity generation - that adds £8 to annual bills.
Investors
But the biggest contributions to energy bills come from other schemes. The Renewable Obligation (RO) forces energy companies to generate a growing amount of renewable energy each year. So they build wind farms and so on to meet government targets.
In all, this adds £30 to your annual bill, about 2% of the total. Ministers are looking hard to see if there are any savings to be made here.
But this is tricky. Prices for ROs are fixed for some years, the government wants to give investors stability, and even if some cuts were made, the effect would probably not be felt in consumers' bills until way after the election.
The largest so-called "green tax" is the Energy Company Obligation, or ECO. This forces energy companies to pay to improve the insulation of vulnerable households, a cost of more than £1bn each year. This adds a whopping £47 a year to annual bills - according to the Department for Energy and Climate Change - and it is this measure that the government has its eye on.
The debate is not over whether the government should abolish ECO but whether it could either reduce it or pay for it out of general taxation. This would cut energy bills but potentially add to tax bills.
There is a precedent for this. In 2011 the coalition decided a scheme called the Renewable Heat Initiative - which provides incentives for businesses who invest in biomass boilers, solar thermal systems and heat pumps - should be paid for out of taxation rather than energy bills.
But this is not without difficulty. Conservative ministers would have to persuade their Lib Dem colleagues to agree to changing the way ECO is funded. Already the Lib Dem Energy Secretary Ed Davey has written to the big six energy companies asking them to set out how much ECO costs them. The Lib Dems believe that ECO will help cut bills in the long term by improving energy efficiency.
There is also a political risk in trying to cut energy bills by transferring the costs on to taxation, a finesse that an increasingly sophisticated electorate may not buy.
So, for now, the government is feeling its way towards to finding a way of cutting energy bills. But until it dies, it will continue to face flak as energy companies continue to raise their prices and Labour exploits the government's discomfort.