Gambling: No change in roulette machine stakes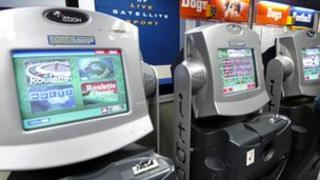 Gamblers will continue to be able to bet up to £100 a spin on electronic roulette machines in bookmakers' shops, the government has confirmed.
Ministers acknowledged concerns that fixed-odds betting terminals (FOBT) can cause addiction and even violence.
But the Department for Culture, Media and Sport said it wanted to protect gambling industry jobs and profits.
It did, however, warn the industry it had to co-operate with research into the potential harm caused by FOBTs.
The DCMS also announced that the maximum payout for gambling machines in casinos would go up from £4,000 to £10,000, with the maximum stake for such machines to more than double from £2 to £5.
Casinos will also be able to offer "progressive" jackpot prizes of up to £20,000.
Profits
Regulations will be laid before parliament by the end of the year, with the new rules coming into force early in 2014.
Sports minister Helen Grant said: "The government is pleased to introduce a package that supports the gambling sector but is very clear that growth cannot be pursued at any cost.
"Our response acknowledges gambling's contribution to the economy but balances this with explicit recognition of the need to protect players, particularly at the higher end stakes."
The government had been widely expected not to take any action on FOBTs at this stage, as the scope of its triennial review of Labour's 2005 Gambling Act was limited to maximising the industry's profits in a socially responsible way and boosting growth.
Unlike fruit machines in pubs and amusement arcades, gamblers can bet up to £100 every 20 seconds on FOBTs. The maximum payout is £500.
Despite a limit being imposed of four terminals per shop, FOBTs account for almost half the big bookmakers' annual profits and have led to an explosion in new bookmakers' shops on the High Street, often in deprived areas.
'Harm'
The government admitted that the "potential for harm (from FOBT machines), even among players who are not problem gamblers, is high" and it conceded there was "very significant public concern" about them.
Local authorities have also received reports of "customers damaging machines in anger and making threats to shops staff" after using them, according to a DCMS summary of responses to its consultation.
But, the report concludes, "while it is clear that reducing stakes on (FOBT) machines by varying degrees would have an adverse economic impact on the betting industry, it is currently not clear how great an impact a reduction would have on gambling related harm," the report added.
"In the immediate term, we expect the betting industry to make real and rapid progress on understanding harm and on developing much better harm mitigation measures."
The industry has been accused by watchdog The Gambling Commission of refusing to hand over data on player behaviour, such as the speed of play, to aid researchers investigating whether the machines are addictive.
The Responsible Gambling Trust research is due to be published next year. Campaigners, including Lib Dem minister Don Foster, who last month secured his party's backing for action to curb FOBTs, hope this will lead to a crackdown in stakes and prizes.
The betting giants have promised a new voluntary code of conduct aimed at protecting vulnerable players by allowing them to self-exclude or limit their own stakes.
But campaigners against FOBTs claim such measures have been tried in the past without success and the only way to limit harm is to reduce the amount gamblers can wager and the speed of play.
According to figures from the Gambling Commission, the gross profit from FOBTs in 2012 was £1.4bn.