Dwarf insult MP 'can work with Speaker John Bercow'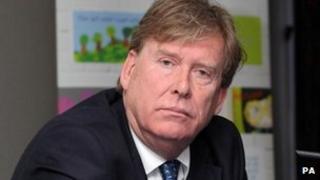 A Conservative MP who once called House of Commons Speaker John Bercow a "stupid, sanctimonious dwarf" has insisted the pair can work together if he is elected as his deputy.
Simon Burns told The House magazine it was not necessary to be "closest of friends" to gel professionally.
Mr Burns stood down as a transport minister earlier this week to run for the deputy Speakership.
The Speaker has said he is "entirely untroubled" by the remarks.
Mr Burns, MP for Chelmsford, has had a difficult relationship with Mr Bercow, who was himself a Tory MP before taking on his current job in 2009.
During a testy exchange in the Commons in 2010, Mr Burns, then a health minister, insulted Mr Bercow about his height. He later apologised to a group representing people with dwarfism for any offence caused, but not to the Speaker himself.
'Highly professional'
It was greeted with some surprise at Westminster last week when Mr Burns revealed he was running for the deputy Speakership vacated by Nigel Evans, who stood down last month after he was charged with sexual offences.
But Mr Burns told the House: "The deputy Speakers are elected by and responsible to the House of Commons and they work closely with the Speaker. It is no secret that the Speaker and I are not the closest of friends, but you do not need to be close friends to carry out the job successfully.
"In all my jobs in Parliament, whether in government or opposition, I have always behaved in a highly professional way, working with a wide range of different people.
"I have no reason to doubt that the Speaker is equally professional and we would be able to forge a professional working relationship, to the benefit of the smooth running of the House."
The election for the deputy Speaker's role takes place next week. Other candidates include Tory MP Nadine Dorries, another vocal critic of Mr Bercow.