Badger gassing being considered - Owen Paterson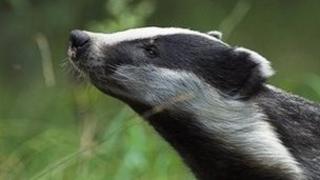 The government is exploring the possibility of gassing badgers to cull carriers of bovine TB, Environment Secretary Owen Paterson has told MPs.
A six week trial of badger culling in Somerset has now ended.
But the firm behind it has asked for more time after its marksmen fell short of killing the target of 70% of the badger population.
Mr Paterson said the Department for Food and Rural Affairs was looking at other methods including the use of gas.
Responding to a question from Green MP Caroline Lucas in the Commons, Mr Paterson said: "Until we can establish vaccines, we have to use the tools used by other sensible countries - which is to remove wildlife - we made it quite clear in our TB strategy we would look at other methods of removing wildlife, and yes we are looking at gassing, but we will not use it unless it is proven to be safe, humane, and effective."
Labour MP Barry Sheerman called the badger cull "morally reprehensible" and asked Mr Paterson "why doesn't he resign?" during heated Commons exchanges.
Green Party leader Natalie Bennett said the gassing of badgers was "inhumane" and she hoped Mr Paterson's words "will not be interpreted as a green light for illegal gassing of settings, of which there have been credible reports".
She called for a "coordinated plan across England to vaccinate badgers and improve biosecurity to reduce transmission among cattle and between cattle, badgers and other wildlife".
Marksmen only managed to shoot 60% of the badgers in the trial area in Somerset, although estimates have been lowered as to how many badgers lived in the region in the first place.
'Extremely concerned'
The company behind the cull has asked for more time and a similar time extension is being sought for a trial cull Gloucestershire.
The government is due to make a decision on extending the culls later this week.
Farmers have long blamed badgers for spreading bovine TB in cattle but animal rights groups say evidence does not support this.
At one time gassing was the preferred method of culling but it was dropped in favour of shooting, which is seen as more humane.
The RSPCA said it was "opposed to the use of gas to control badgers on welfare grounds and believes it is not humane as it may cause badgers to suffer prolonged deaths underground".
"We are extremely concerned about the government's admission that they are looking into using gassing to cull badgers," the organisation said in a statement.
"Culling badgers will not solve the problem of bovine TB in cattle, whatever the method of culling.
"The possible gassing of badgers adds a further outrageous twist to this misguided policy. The RSPCA will look into reports that badgers have been gassed in and around the pilot cull areas."
Martin Surl, Police and Crime Commissioner for Gloucestershire, has warned that plans to extend the cull could stretch police resources in his area.
Mr Surl told the the Stroud News and Journal: "My concern is that the cull operators are feeling the pressure and may become more desperate in their attempts to shoot their quota of badgers while the people opposed to the cull are getting equally frustrated, all of which adds up to an unhelpful situation."
But Laurence Robertson, Conservative MP for Tewkesbury, dismissed Mr Surl's concerns, accusing him in the Commons of being "publicity-seeking", adding that it was for the government to decide whether to extend the cull.
In the trial, the plan was to shoot and kill 70% of badgers in the areas of west Somerset and Gloucestershire by free shooting. It has ended in Somerset and is due to finish in Gloucestershire on Monday.
'Farce'
Across both regions this meant around 5,000 badgers were to be killed in total.
But Defra sources said these targets were based on population estimates from 2012 that have proved to be highly inaccurate.
Explaining the failure to meet the target on Wednesday, Mr Paterson said: "The badgers moved the goalposts.
"We're dealing with a wild animal, subject to the vagaries of the weather and disease and breeding patterns."
But rock star and campaigner Brian May, a leading opponent of the cull, branded the trial an "utter failure" and described the application for an extension as a "farce".
"They were warned this would happen and they did not listen to the scientists," he added.