Sir Menzies Campbell to stand down as MP in 2015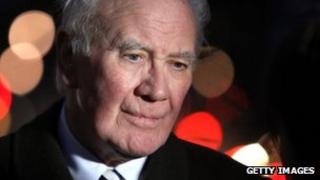 Former Liberal Democrat leader Sir Menzies Campbell has announced he will stand down as an MP at the next general election, due in May 2015.
Sir Menzies, or Ming as he is widely known, said he had written to Deputy Prime Minister Nick Clegg to inform him of his decision.
He has served as MP for North East Fife since 1987 and was leader of the Lib Dems from 2006-07.
Sir Menzies said it had been "an enormous privilege" to serve as an MP.
During his career representing his "wonderful" Scottish constituency, he said: "My wife and I have made many friends and have been supported by constituents of all political persuasions and none.
"It is always a regret to begin the process of retiring from the House of Commons but I believe now is the time to start."
'Good innings'
Mr Clegg said Sir Menzies was "a towering presence" in British politics and had "served this country and our party with unparalleled distinction".
"As well as being an outstanding leader, Sir Menzies is a brilliant orator and someone who commands both attention and affection from all sides of the House in Westminster.
"Of his many achievements in politics, I suspect he will be most vividly remembered for his passionate and articulate opposition to the war in Iraq."
Sir Menzies told the BBC he was leaving because of his age. He will be 80 when the next Parliament is due to end.
"I have had a good innings but it's time to give someone else a go," he told the BBC News Channel's chief political correspondent Norman Smith.
He had contemplated leaving Parliament after he resigned as Liberal Democrat leader, he added.
There is speculation that Sir Menzies will be offered a place in the House of Lords.
Sir Menzies first stood as a candidate for the Liberal Democrats seat in 1976, but did not win his constituency for 11 years.
He had originally intended to stand for two Parliaments, he told the BBC, but he has now have served in six Parliaments.
In his first career as a sprinter, he held the UK 100m record from 1967 to 1974 and ran in the 1964 Tokyo Olympics.
He later became a QC, and spoke for his party on foreign affairs, defence and Europe for more than a decade.
Earlier this year, he was included in the Queen's Birthday Honours list, which cited him as "one of the most respected politicians of his generation".
"It is a complete surprise. I am delighted and honoured," he said at the time.
"Other contemporary holders include Lord Coe and Judi Dench, and it is a privilege to join such company."