UK reopens Iran diplomatic channels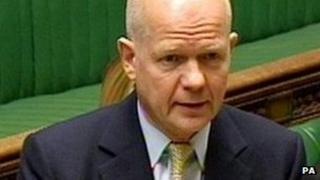 The UK will restore some diplomatic relations with Iran by appointing a charge d'affaires to work with the country, William Hague has announced.
But the foreign secretary warned the country's president to follow up his more "positive" words on its alleged nuclear weapons programme with "concrete actions".
Mr Hague told MPs further progress would require "substantial change".
Iran will appoint a charge d'affaires to work with London in return.
Mr Hague said it was hoped this would help "on the way towards eventual re-opening of both our embassies".
'Sincerity test'
The UK shut its embassy in Tehran in November 2011 after it was attacked by protesters. It then ordered the closure of the Iranian embassy in London.
Mr Hague said the recently elected government of President Hassan Rouhani had "presented themselves in a much more positive light than recent governments".
But Iran was still in breach of six United Nations resolutions over its alleged development of nuclear weapons, he said, adding: "We must test the Iranian government's sincerity to the full."
Mr Hague also said: "We are looking forward to serious proposals from Iran to follow up on their stated desire to make rapid progress on negotiations.
"It will be very important for Iran's relations with the international community for the marked change of presentation and statements to be accompanied by concrete actions and a viable approach to negotiations.
He added: "In the absence of change to these policies, we will continue to maintain strong sanctions. A substantial change in British or western policies requires a substantive change in that programme."
For Labour, shadow foreign secretary Douglas Alexander criticised the government for not moving more quickly to restore relations with Iran, saying it had "misjudged" the situation and risked being "left behind".
He added: "On Iran, it is time for the government to catch up with our American allies."