Watchdog warning over 'unnecessary' gagging clauses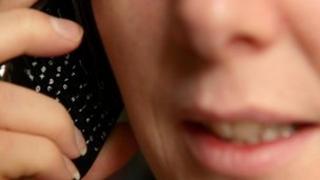 The use of "gagging clauses" risks stopping employees from speaking out about failures in the public sector, the National Audit Office has warned.
The spending watchdog found evidence of "unnecessary" confidentiality agreements being used in the health sector which it said may prevent "genuine concerns" from being raised.
It has urged officials to provide clear guidance on when clauses are justified.
Health Secretary Jeremy Hunt has raised concerns about their use in the NHS.
Mr Hunt wrote to all NHS Trusts in England in February to tell them that staff who raised concerns about patient safety should be "celebrated" and not prevented from speaking out.
It came after Gary Walker, former chief executive of United Lincolnshire Hospitals Trust (ULHT), said he had been forced out of his job and gagged from speaking out about his concerns over patient safety.
'Compromise agreements'
In a new report, the National Audit Office said it had reviewed 84 cases where government departments and other public sector employers had reached "compromise agreements" with staff to facilitate their departure.
Of these, 31 contained clauses preventing the employee from disclosing confidential information obtained during their employment while 27 prohibited staff from making derogatory or disparaging statements about their employer after they had left the organisation.
In two cases, contractual arrangements had been reached "that might be considered gagging clauses", it added, in which individuals agreed not to pursue complaints against a range of organisations including the Department of Health and the hospital regulator, the Care Quality Commission.
The details of the employers concerned have not been published.
But in one of the cases, the NAO found there was no evidence that the employee was a potential whistleblower and "it is not clear from the papers that we reviewed why such clauses were considered necessary".
In the other, the individual concerned - a hospital manager - had reported concerns about fraud and patient safety but was dismissed following complaints from a member of staff about their behaviour.
Framework
An interim employment tribunal ruled that the individual should be re-instated but, by then, their post had been axed in a restructuring and they subsequently reached a termination agreement including a confidentiality clause.
"There is a risk that clauses like these might discourage the employee raising genuine concerns about service failure with the appropriate oversight bodies," the report concluded.
The Treasury is considering a new framework to ensure consistency across Whitehall over the use of severance payments and confidentiality agreements for departing staff.
The NAO report found that the Treasury had sanctioned severance payments totalling more than £250,000 to four individuals whose performance and conduct in their jobs had been questioned.
It said the Treasury had taken into account due process, the risk of litigation and the chances of winning a case at an employment tribunal before deciding the payments represented "value for money" for the public.
The NAO has said "clear and published" guidance must be available on the use of confidentiality agreements and that any agreements should not prejudice individuals' right to disclose information in the public interest.