Robinson exit is watershed for English Defence League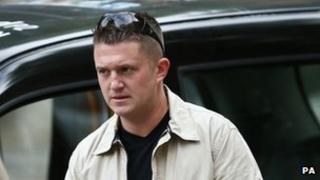 The English Defence League (EDL) began life as a street movement in opposition to Islamist extremists who protested against British troops in 2009 in Luton.
It has stayed on the streets, its marches attended by men and women who say they are working class, and anti-Muslim.
But the EDL has rarely been able to mobilise thousands for its marches. And often the hundreds who have turned out have been met by similar numbers of anti-racist campaigners.
It has struggled ideologically too. There has been growing tension between supporters who appear to oppose all Muslims and the EDL's leaders who say they only oppose Muslim extremists.
It has been suggested the leadership has "marketed" the EDL in this way, in contrast to the views of most of its members.
Officially the EDL denies being racist, and rejects the suggestion it is of the far right.
The group says it does not condemn all Muslims, and Tommy Robinson has said he does not "want to lead a war against all Muslims".
Tensions
However, in the past, he has talked about "Muslim communities feeling the full force of the EDL" - a comment he explained by suggesting this would be through democratic processes, not violence.
For its part the British National Party appears to believe the EDL's leadership has not been radical enough.
An article on its website states: "As genuine nationalists we have deep ideological differences with the EDL leaders who openly support the ethno-cultural genocide of the indigenous English through mass colonisation and multi-racialism."
This tension is probably the best explanation as to why twelve senior members of the EDL have now left.
Mr Robinson appears to have decided that a street movement that seems to confront all Muslims is not changing minds.
But there is another explanation. EDL members say the personal pressure on Tommy Robinson in particular has been intense.
Personal threats
In the wake of the stabbing of Lee Rigby in Woolwich, Mr Robinson tweeted that he'd received 200 death threats, including to cut off his head.
He told BBC Radio 5Live that when supporters threatened to bomb mosques he would be blamed "when I pick my kids up from school". He insisted "that's not what I stand for".
That pressure may simply have got to him.
The anti-extremism group Quilliam appears to have played its part too.
It has suggested that there is a negative symbiotic relationship between far-right extremism and Islamism, and this argument appears to have helped convince Tommy Robinson to make his announcement - through Quilliam itself.
It is not yet clear in what ways the group has engaged with Mr Robinson and other EDL members.
Their departure has weakened the movement, and its mobilisation of anti-Muslim working class sentiment.
It remains to be seen if new leaders will emerge, or whether the EDL will melt away, leaving the British National Party alone on the right.