Ministerial aide roles complete government reshuffle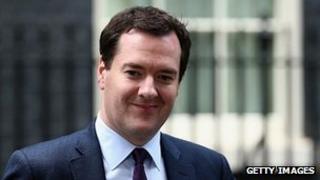 The finishing touches are being put to Monday's government reshuffle, with the appointment of a number of ministerial aides to influential positions.
Rob Wilson has been named as parliamentary private secretary (PPS) to Chancellor George Osborne, having previously filled the equivalent role for Health Secretary Jeremy Hunt.
Although unpaid, PPS roles are seen as a springboard to a ministerial career.
Separately, Mark Francois has been confirmed as armed forces minister.
Following Andrew Robathan's move to the Northern Ireland Office, it was unclear whether one of the existing ministers or new appointee Anna Soubry would have day-to-day responsibility for the armed forces.
Labour described this as an "outrageous snub" to the UK's serving personnel.
But the Ministry of Defence said Mr Francois would fill the role while the responsibilities of other ministers including Ms Soubry - the first ever female minister to work in the MoD - would be announced in due course.
Parliamentary private secretaries are regarded as the "eyes and ears" of Cabinet ministers and ministers of state in Parliament.
They are expected to back the government in parliamentary votes or risk losing their positions.
'Eyes and ears'
Mr Wilson, who has been MP for Reading East since 2005 and wrote a book about how the Conservative-Lib Dem coalition came into being, tweeted that it was "great to be working at the heart of government".
David Cameron's new PPS is Gavin Williamson, the MP for South Staffordshire, who takes over from Sam Gyimah who was also made a whip as part of the reshuffle.
Mr Williamson, who was elected in 2010, had been doing the same role for transport secretary Patrick McLoughlin.
Among the ministerial aides to get government jobs in the reshuffle include Kris Hopkins, who has become a junior minister in the Department for Communities and Local Government.
Mr Wilson's predecessor, Amber Rudd, has been made a government whip.
Labour leader Ed Miliband appointed former Europe minister Wayne David as his PPS on Monday.
The Commons Public Administration Committee has criticised the growth in the number of PPS roles, saying they perform "few functions of real value" and their roles could easily be done by whips.
In a report in 2011, it called for a limit of one ministerial aide per department to reduce the so-called "payroll vote" in Parliament.