Jeremy Hunt denies accusing Andy Burnham of NHS cover-up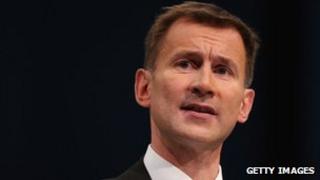 Health Secretary Jeremy Hunt has insisted he did not intend to imply that his Labour shadow Andy Burnham had personally covered up evidence of poor care at an NHS Trust.
A tweet from Mr Hunt appeared to accuse Mr Burnham of attempting a cover-up while he was in office, prompting a response from Labour's lawyers.
Mr Hunt told Mr Burnham: "Whatever our differences on health policy, I do not doubt your personal integrity."
Labour accused him of "backtracking".
In a letter to the shadow health secretary, Mr Hunt said he believed there was "political pressure" on England's health watchdog the Care Quality Commission (CQC) as it investigated failings at NHS hospitals.
"As health secretary, you presided over a culture where 'bad' news surfacing about care problems was discouraged for political or other reasons and CQC staff felt they would be castigated by your department if such news did emerge," he wrote.
But the tweet was "not a suggestion that you personally covered up evidence of poor care", he argued.
A spokesman for Andy Burnham said: "The secretary of state is clearly backtracking. His reply is an apology of sorts, but he seeks to re-write the tweet rather than delete it. We are considering his response in consultation with our lawyers."
On Saturday, Labour's lawyers wrote to Mr Hunt seeking a retraction of the tweet and a public apology unless he could provide evidence to substantiate his allegation.
Mr Burnham did not rule out the possibility of suing Mr Hunt for defamation.
Mr Hunt's tweet is believed to have related to a CQC investigation into Basildon and Thurrock University Hospitals NHS Foundation Trust, which was placed in "special measures" in July after recording above-average death rates.
Conservative MP Steve Barclay has said a series of emails - which he obtained and published on Friday after making a freedom of information request to the CQC - showed that Mr Burnham had put "pressure on the regulator to water down its concerns" about the trust when he was health secretary in the previous Labour government.