Labour reshuffle: Rachel Reeves promoted to shadow work and pensions secretary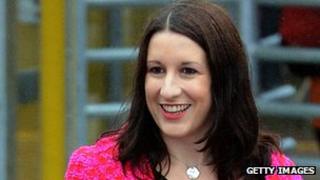 Rachel Reeves will replace Liam Byrne as shadow work and pensions secretary, as Labour leader Ed Miliband reshuffles his top team.
In other changes, shadow defence secretary Jim Murphy has been moved from his post to the international development brief.
Shadow education secretary Stephen Twigg is replaced by TV historian Tristram Hunt.
But Andy Burnham will keep his current position as shadow health secretary.
The two new members of the shadow cabinet, Tristram Hunt and Chris Leslie, as well as Ms Reeves, all entered the Commons at the 2010 general election - although Mr Leslie had a previous stint as an MP from 1997 to 2005.
BBC News Channel chief political correspondent Norman Smith said senior Labour figures were keen to promote the message that their reshuffle was designed to bring in new talent.
They note that nearly a third of the shadow cabinet are now from the 2010 intake, and more than 40% are women.
'Bigger role'
Ex-shadow cabinet members Mr Twigg and Mr Byrne take on more junior roles as shadow minister for political and constitutional reform and shadow minister for higher education.
Mr Twigg, Mr Byrne and Mr Murphy all served as ministers under former PM Tony Blair, and their demotion is fuelling speculation of a "purge of the Blairites", Norman Smith added.
But aides to Mr Miliband have denied trying to remove any faction of the party, he said.
In other changes Mary Creagh leaves the environment, food and rural affairs brief to become shadow transport secretary.
Previous incumbent Maria Eagle had been a strong defender of HS2, the proposed high-speed rail link.
Her departure from that role is likely to be seen as adding to the likelihood of a Labour rethink on support for the scheme.
In a blog post, Mr Murphy pledged to apply "just as much commitment and energy" to his new brief on international development as his previous defence job, and also said he would now play a "bigger role" in the campaign to persuade people in Scotland to vote against independence in the forthcoming referendum.
Vernon Coaker moves from his job as shadow Northern Ireland secretary to shadow defence secretary, replacing Mr Murphy.
In other moves, Emma Reynolds replaces Jack Dromey as shadow housing minister.
Ivan Lewis takes over the Northern Ireland brief from Mr Coaker, having previously been shadow international development secretary.
Gloria de Piero becomes shadow minister for women and equalities - a shadow cabinet post that was previously held by Yvette Cooper, who continues in her main role as shadow home secretary.
Labour reshuffle changes in full
Work and pensions: Rachel Reeves in, Liam Byrne out
Education: Tristram Hunt in, Stephen Twigg out
Defence: Vernon Coaker in, Jim Murphy out
Shadow chief secretary to the Treasury: Chris Leslie in, Rachel Reeves out
Transport: Mary Creagh in, Maria Eagle out
Environment, food and rural affairs: Maria Eagle in, Mary Creagh out
Northern Ireland: Ivan Lewis in, Vernon Coaker out
Housing: Emma Reynolds in, Jack Dromey out