Andy Burnham 'will not accept cover-up slurs', says Labour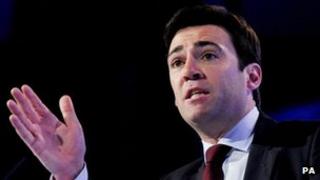 Shadow health secretary Andy Burnham will not accept "slurs on his character" from his Conservative counterpart Jeremy Hunt, a Labour spokesman has said.
Mr Hunt had suggested on Twitter that Mr Burnham attempted to "cover up" NHS failings when he was in government.
As a result, the Labour MP instructed his lawyers to write to the health secretary, the spokesman confirmed.
A Conservative spokesman described Mr Burnham's move as "astonishing".
Labour believes that Mr Hunt's tweet was "a step too far" and is seeking a retraction and apology unless Mr Hunt can provide evidence to substantiate his allegation, BBC political correspondent Alan Soady said.
The Labour spokesman said: "Instead of focusing on what he should be doing and tackling the A&E crisis, Jeremy Hunt has spent all year orchestrating a smear campaign against Andy Burnham. On Friday, he went a step too far.
"This is behaviour unbecoming of a secretary of state. Andy Burnham is not prepared to accept these unfounded slurs on his character and the last government. He has therefore instructed lawyers to act on his behalf."
In response, a Conservative source told our correspondent: "It's astonishing that Labour are still trying to deny the clear link between [England's health watchdog] the CQC's decision not to expose poor hospital care under the last government and the political pressure applied to the CQC by Labour ministers."
Mr Hunt's tweet is understood to relate to a CQC investigation into Basildon and Thurrock University Hospitals NHS Foundation Trust, which was placed in "special measures" in July after recording above-average death rates.
Conservative MP Steve Barclay has said a series of emails - which he obtained and published on Friday after making a freedom of information request to the CQC - showed that Mr Burnham had put "pressure on the regulator to water down its concerns" about the trust when he was health secretary under Labour.