Nigel Farage: I will stand as MP at next general election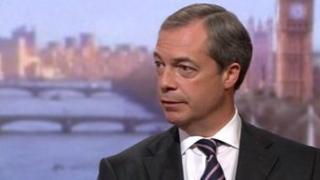 UKIP leader Nigel Farage has confirmed he is planning to stand as an MP at the next general election, due in 2015.
Speaking on the BBC's Andrew Marr programme, he insisted that the 2014 elections to the European Parliament were his main priority.
But the UKIP leader revealed he had been considering a bid to become MP for Folkestone and Hythe.
He also said he thought PM David Cameron and his cabinet colleagues regarded UKIP as "the lower orders".
Mr Farage refused to be drawn on speculation that he would stand in another Kent constituency, South Thanet.
"I was thinking about Folkestone," he replied.
"But it doesn't really matter. I'm not going say where I'm standing. I'm not even going to think about where I'm standing.
"I am going to stand, but let's get the European elections out the way first."
'No commitment'
On the subject of whether there was likely to be any deal between UKIP and the Conservatives at the next general election, he said: "It's perfectly clear that Mr Cameron and the cabinet view us as being part of the lower orders, and we're really not good enough for them."
He said he was "perfectly relaxed" about his party co-operating with the Conservatives at the local level, but he added: "I don't think it will happen."
The current MP for Folkestone and Hythe, the Conservatives' Damian Collins won a 10,122-vote majority at the general election in 2010 on nearly 50% of the vote.
The UKIP candidate won 4.6% of the vote, but in the May 2013 county council elections three UKIP members were voted in to represent Folkestone.
Mr Farage explained his party's general election strategy: "We will target our resources where we won county council seats, where we won district council seats following the model that the Lib Dems used under Paddy Ashdown building on local strength.
"If you can win at council level, you can win at parliamentary level."
Mr Collins took to Twitter to comment: "Nigel Farage says 'it doesn't really matter' whether he commits to stand to be an MP in Folkestone or Thanet.
"He's got no commitment."