Ken Clarke aims to retain seat at next general election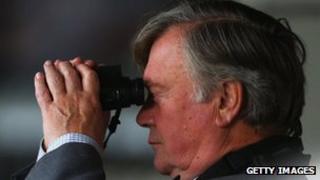 Conservative MP and cabinet minister Ken Clarke has announced that he plans to stand again at the next general election, which is due in 2015.
In an interview with BBC political editor, East Midlands, John Hess, Mr Clarke also said he "hopes" to retain a place in Prime Minister David Cameron's top ministerial team.
"But sooner or later, I'm sure he'll ask me to retire," he added.
The minister without portfolio and MP for Rushcliffe will be 74 in May 2015.
"I get on very well with David," he added.
"He's had me in the government for three and a half years, which is much longer than I expected."
Mr Clarke continued: "He may have me there for the rest of this Parliament. But prime ministers need to accommodate young thrusting, ambitious men, as I used to be many decades ago.
"Sometimes, as prime minister, you have to cough gently and ask your colleagues to retire. I hope he'll keep me for as long as I can contribute."
Ken Clarke returned to government when David Cameron entered Downing Street after the 2010 general election.
The then justice secretary and lord chancellor said the coalition had brought out his "inner liberal".
The justice portfolio and lord chancellorship have since been handed to Chris Grayling, but Mr Clarke retains his membership of the cabinet.
Our correspondent John Hess predicted that if the Conservatives win the 2015 election, Mr Clarke would want to play a key pro-Europe role in any ensuing EU referendum campaign on UK membership.
Mr Clarke was first elected Rushcliffe MP in 1970, a keen supporter of the pro-European, "one-nation" Prime Minister Edward Heath.
Within two years of his election he was an assistant whip, rising to whip and then becoming a junior spokesman on the opposition benches.
In 1988 he entered the cabinet as health secretary, with the job of driving through controversial and far-reaching reforms of the NHS, including the internal market.
When John Major became leader in 1990 he moved Mr Clarke to education and later the Home Office.
After the disastrous events of Black Wednesday, the decision to leave the European exchange rate mechanism and eight months later the resignation of Norman Lamont, Mr Clarke was made chancellor.
He has run for the leadership of the Conservative party three times: in 1997, 2001 and 2005.