Ed Miliband urges Daily Mail owner to examine 'culture'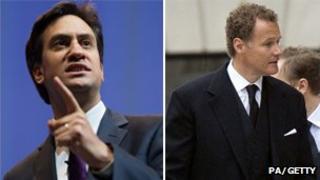 Newspaper owner Lord Rothermere must take a "long, hard look" at the "culture and practices" of his Mail titles, Ed Miliband has said.
The proprietor has apologised to Mr Miliband for a Mail on Sunday reporter intruding on a family memorial service.
The Labour leader told BBC Radio 5Live the apology was an "important step" but that he did not think his treatment was an isolated incident.
Mr Miliband said he wanted to know "how these practices are allowed to happen".
Last weekend, a Daily Mail article labelled Ralph Miliband, a Marxist academic who died in 1994, "the man who hated Britain".
'Line crossed'
That prompted Mr Miliband to complain about his father being "smeared", but although the newspaper offered him a right of reply, it has continued to defend its coverage.
In a separate incident on Thursday, the Mail on Sunday suspended two of its journalists after it emerged the paper had gate-crashed a service for the Labour leader's uncle, at which they pressed the family for reaction to the original Daily Mail article.
Mr Miliband told 5Live Breakfast that Lord Rothermere "has a responsibility to take a long hard look" at the way his papers are run after the intrusion.
He said: "I hope what Lord Rothermere will do is look at the wider culture and practices at the Daily Mail and Mail on Sunday because I don't think it's an isolated incident.
"I'm interested in other families, not in public life, who've had similar experiences."
Mr Miliband said he expected the papers to criticise him and his policies but that they had "crossed a line" by accusing his father of hating Britain.
While acknowledging the Daily Mail - which has a circulation of more than 1.8 million - was a "popular" newspaper, he suggested many of its readers agreed with him that it had "overstepped the mark".
But he said he did not agree with the Jewish Chronicle's suggestion that there was "a whiff of anti-semitism" about the Daily Mail's Ralph Miliband articles.
Mail on Sunday editor Geordie Greig said the reporter had been sent without his knowledge and an investigation was being held into "a decision which was wrong".
Both he and Lord Rothermere apologised "unreservedly", with the peer also writing to Mr Miliband.
'Ethical roots'
Neither Labour nor the Daily Mail and General Trust - the papers' parent company - have released the text of Lord Rothermere's response to Mr Miliband.
Mr Miliband told 5Live he has met the Daily Mail's editor Paul Dacre "two or three times" since becoming Labour leader.
He said: "My personal dealings with him have been absolutely professional. Sometimes we've disagreed about issues. We've disagreed about press standards but sometimes we've agreed on some issues."
The row comes days before a crucial meeting of MPs next Wednesday on press regulation.
They will consider proposals for a press royal charter with a new regulator to replace the Press Complaints Commission.
The plan is backed by the country's largest newspaper groups, including Mail publisher DMG Media, News UK, who own the Sun and the Times, Telegraph Media Group and Trinity Mirror.
Mr Miliband supports an alternative plan, backed by the three main political parties and press intrusion victims campaign group Hacked Off, for a form of press regulation backed by royal charter.
A senior Mail executive has defended the paper's journalistic methods, saying it was "extraordinarily careful" about how it pursued a story.
"I hear the the editor, I hear the deputy editor almost every day saying to reporters, saying to editors of their sections 'be careful how you go about getting a particular story'," City Editor Alex Brummer told Radio 4's Today.
'Useful idiot'
"That's a practice which goes to the core of the paper, and I do think there are some good ethical roots in the paper and this is the exception rather than the rule," he added.
On Thursday's Question Time on BBC One, the Daily Mail's political sketch writer Quentin Letts defended its original reporting of the views of Ralph Miliband, a Jewish refugee who fled Belgium aged 16 to escape the Nazis and who served in the Royal Navy during WWII.
Mr Letts described the socialist academic as a "useful idiot" for "people that were promoting Marxism" during the Cold War.
Mr Letts added that Ralph Miliband had been "furious that we won the Falklands War. He wanted us to lose the Falklands War.
"Is that the behaviour of a man who loves his country? I'm not sure it is."
However, shadow home secretary Yvette Cooper, praising Ralph Miliband's military record, told the programme: "People who haven't served their country and fought for their country should really think before deciding that they have a monopoly on determining British values."
Meanwhile Ralph Miliband's biographer, Michael Newman, said the late academic "wanted a different kind of Britain" but "wasn't against Britain".