Benefits: Your views on cutting them for the under-25s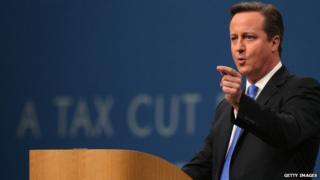 David Cameron has suggested benefits paid to people under the age of 25 could be cut in an effort to reduce long-term worklessness.
In his speech to the Conservative conference, the prime minister promised to "nag and push and guide" young people away from a life on the dole.
It was later confirmed that the government is reviewing policies for 16 to 25-year-olds.
The latest figures from the Department of Work and Pensions showed 1.09 million people between the ages of 16 and 24 were not in work, education or training.
Mr Cameron argued that action was needed in the UK, saying: "There are still over a million young people not in education, employment, or training.
"Today it is still possible to leave school, sign on, find a flat, start claiming housing benefit and opt for a life on benefits. It's time for bold action here."
BBC News website users have been sending their views on this story, here is a selection of their comments.
Benn Garrick, North Yorkshire
I graduated from university in July 2012 and have been on Jobseeker's Allowance since then. I have been registered to the Work Programme as well. I have applied for at least three jobs a week and have only had one interview in that time, you rarely hear anything at all and it is very disheartening.
I have dyspraxia that inhibits my ability to process information that isn't written down. I am not stupid, but I am trained in a particular field of expertise and constantly looking to break into the industry.
I completed a course in teaching assistance since graduating and volunteer as an assistant in a local school and as an English teacher to military families. I have also learned British Sign Language.
I am qualified and experienced in two different disciplines. Why should I have my sole source of income reduced? I give back to the community. I would have nothing against having job seekers do mandatory work for their benefits, but they need to be paid the national minimum wage.
For the people that are searching for work, and are actually being let down by job centres and the Work Programme, a reduction of benefits is a punishment they do not deserve.
Ria Bhavnani, London
I graduated from university with a 2:1 in architecture in 2012. I immediately started applying for jobs both in my chosen profession and posts such as shop assistants and receptionists, as well as unpaid internships. I applied to about 200 jobs. I went on a few interviews and assessment centres but no job. I was living with my parents in London and using savings, birthday and Christmas money to live.
After six months of looking for work independently, my parents suggested I contact the job centre for support. They did not help me in any way, no improving my CV or training, just £50 a week. The staff just wanted me to apply for any old job and it had to be through their website, an inflexible system since you couldn't send through personalised cover letters or in my case attach a PDF portfolio. After a month, I found an unpaid internship at a graphic design studio myself.
I found a job 11 months after graduating, although it is not in architecture. I still live at home because my salary can't support London rent. Three of my friends found their first jobs a whole year after graduating, and a large percentage are working in shops as they can't afford to intern to get a job in design. This is the reality.
Sue Wyeth-Price, Surrey
I have five children, the youngest of whom is 25. She graduated from university three years ago and looked very hard for a job in the media industry, but it is a very competitive area. She has applied for more than 100 jobs. While she was looking she got a job as an assistant manager at a restaurant and held that job for two years until the company went bust.
Since then she has been looking for a job working with children. She would like to go back to college to study, but she is in a catch 22-style situation as she needs to be in a paid job working with children before she can be accepted on an NVQ Level 3 course, but she cannot get a job unless she has the relevant training.
Because I do not like my children just sitting around I have encouraged her to volunteer at a local children's day care centre. Last week she was offered a part-time job there and she accepted. When she visited the job centre on Friday she told them and they stopped her Jobseeker's Allowance.
The very little she does earn goes on her transport costs, so she is actually worse off than before she took the job. I am very fortunate I can support her, but what would happen to her if I couldn't?
Linda Rozentals, East Sussex
My son left school at 16 to go to college to train as a carpenter. He studied for three years and gained all his NVQs and yet despite applying to all the major employers in the area he has been unable to find work in his chosen profession.
He was unemployed and receiving benefits for around a year and eventually got so disheartened he took a part-time job working nights stacking shelves at a supermarket.
It is a job, but no life for a young man of 23. He would still love to get a job in carpentry, but it doesn't look likely.
Interviews by Sian Richards