Ex-UKIP man dismisses English Democrats 'deal' claim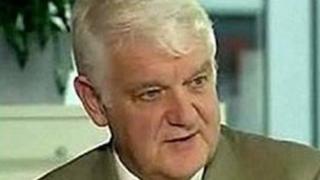 A former UK Independence Party MEP has accused the English Democrats of announcing he was switching parties before a deal had even been struck.
Mike Nattrass left UKIP last month after a row with leader Nigel Farage.
The English Democrats later claimed Mr Nattrass had agreed to join them and run in next year's European elections, but had then changed his mind.
But Mr Nattrass said this was untrue and accused the leadership of "stupid" and "childish" behaviour.
Mr Nattrass, who represents the West Midlands in the European Parliament, resigned from UKIP after he was deselected as a candidate.
He later quit the party, of which he was once deputy leader, accusing Mr Farage of running a "totalitarian regime".
Leaked
Afterwards, Mr Nattrass began discussions with the English Democrats, who campaign for the establishment of an English parliament and immediate withdrawal from the EU, about a possible move.
The party's leader, Robin Tilbrook, has used his blog to release a series of emails between Mr Nattrass and the English Democrats.
He claims an agreement was reached for Mr Nattrass to join his party, becoming its first MEP.
The plan was then that he would run for office again in 2014 and step down after a year if he won a seat, in favour of a colleague, Mr Tilbrook says.
Mr Tilbrook sent out in an embargoed press release announcing the news, which was inadvertently broken by Channel 4 journalist Michael Crick, who revealed the details on Twitter.
This is said to have enraged Mr Nattrass, who reportedly changed his mind.
Mr Tilbrook writes: "The consequence was that the story was leaked before Mike Nattrass, or indeed I, were actually ready for the story to go out.
"Much to my surprise rather than being relatively relaxed about the fact that, through neither of our faults the story was out, Mike Nattrass was furious and rang me up and swore at me, which seemed a bit unnecessary given that the leak was not my fault. He then announced that he was withdrawing from coming over to us."
But Mr Nattrass gives a different version of events.
He told the BBC that he had asked the English Democrats to carry out a "due diligence" test on its membership list, to ensure none of the views expressed by those on it were "abhorrent".
Mr Nattrass said he had declined to switch to the party until this was completed, but Mr Tilbrook had put out the press release before gaining his authorisation.
He added: "They are being very stupid."
"I wasn't satisfied with some of the track records of some of the guys in the English Democrats. What the leadership did was outrageous. You don't put the statement out until the deal is done," Mr Nattrass said. "The word for what has happened is 'childish'."
Mr Nattrass, a chartered surveyor, has been an MEP since 2004.