David Cameron reveals love of bread-making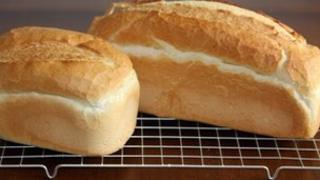 David Cameron has revealed that he fits in time between his prime ministerial duties to make bread for his children.
The Conservative leader expressed his "delight" at creating the occasional granary loaf using a labour-saving electric bread-maker.
The subject came up during an interview when the PM was unable to give the price of a "value sliced white loaf".
Mr Cameron told LBC 97.3 that, rather than go to the shops, he liked a baking smell to "waft" through his kitchen.
Questions about the costs of everyday goods - groceries in particular - are often fired at politicians to test how in touch they are with ordinary people's lives.
'North of a pound'
Speaking on BBC Two's Newsnight on Monday, London Mayor Boris Johnson incorrectly suggested a pint of milk came to about 90p - the true figure is usually about half that.
On LBC, presenter Nick Ferrari asked the prime minister how much a typical supermarket value loaf of sliced white bread costs.
Mr Cameron replied: "I don't buy the value sliced loaf. I've got a bread-maker at home which I delight in using and it turns out in all sorts of different ways.
"But you can buy a loaf in the supermarket for well north of a pound."
The radio host said the actual figure was about 47p.
Mr Cameron added: "I'm trying to get my children to eat the sort of granary. And they take it actually. They like my homemade bread."
The prime minister then went on to plug a brand of flour made in his parliamentary constituency of Witney, in Oxfordshire.
He added: "You set the timer [of the bread-maker] overnight so when you wake up there is this wonderful smell wafting through your kitchen. It takes 30 seconds to put in the ingredients."
Home baking has become more fashionable in recent years, with BBC Two's The Great British Bake-Off attracting millions of viewers. Mr Cameron's wife Samantha held a cake sale to raise money for BBC's Comic Relief in March.