Liam Fox tells Tories to stand up for their beliefs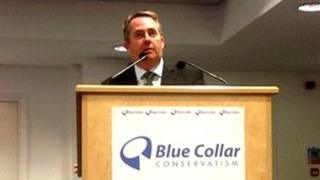 Liam Fox has issued a rallying cry to Conservative Party members to stand up for their beliefs and stop apologising for being Tories.
The former defence secretary, who was forced to resign over a lobbying scandal, said the party leadership had to show more "emotion".
He also called for UK foreign aid to be used as a "lever" to fight extremism.
He was speaking at a Blue Collar Conservatism event at the Tory conference in Manchester.
The group was set up in December last year to find ways to appeal to working class voters, particularly in the North of England.
'Sullen and resentful"
Mr Fox, who lost out to David Cameron in the race to be Tory leader in 2005, attacked those who criticised the prime minister for his privileged background, saying the only thing that mattered, in a "meritocratic" party, was his beliefs.
But in the run-up to the next election, he said the party should be "wanting to tell people what we stand for and not apologising and being sullen and resentful and worrying what the Westminster bubble thinks and what today's Telegraph headline is".
He added: "We have got to have more faith in ourselves and be proud of what we have achieved and if we are proud of ourselves it shows. If we are enthusiastic about being Conservatives. If we love being Conservatives other people will respond to that.
"And if all we do is talk ourselves down, they will also respond to that."
'Passion'
He said the party had to take its lead from Lady Thatcher, who he said understood "the importance of the emotional appeal to voters".
He also urged the government to stand up for British values and not be ashamed to export them to "repressive" countries, using the "leverage" of foreign aid to fight religious intolerance and fundamentalism if necessary.
"It is time for us to tell liberal, apologetic historians to get lost," he told the meeting, to cheers from activists.
His message was echoed by Jacqueline Foster, Conservative MEP for the North-West of England, who also lamented the apparent lack of "passion" among the party's best-known figures compared to UKIP leaders.
Speaking at a Conservative Voice fringe meeting, she said: "We need to show some passion too."
Recalling party conferences from the 1980s and 1990s, she said: "We had some guts and we had some passion in this party and I think that's been dumbed down."