Haass talks must not stop other work, says Theresa Villiers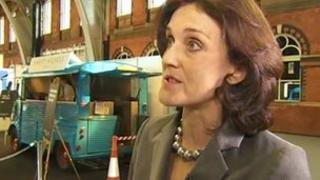 The NI secretary of state has said political priorities must not be put on hold for the Haass talks process.
Theresa Villiers said the government is "very supportive" of the Haass process.
But she told a Conservative Party conference fringe meeting that "the Haass process doesn't mean that other political priorities can simply be put on hold till the New Year".
US diplomat Richard Haass is chairing inter-party talks on flags, parading and the past.
They began in September and continue later this month.
Ms Villiers told guests at the meeting that it was "equally important that renewed vigour and determination goes into delivering on the other big challenges for Northern Ireland".
"On the economy, on a shared future, on building a united and prosperous community."
Stabilising
She also rejected Labour claims that the government was "semi-detached". She said such a claim lacked "any credibility".
The secretary of state also talked about the Northern Ireland economy and said there were signs that the property market was stabilising.
She said there was an increase in foreign investment of 41% in 2012/13 compared to the previous year, and that there were grounds for "cautious optimism".
She did, however, say that "the recovery in Northern Ireland is still the slowest of any UK region", and that benefit claimant counts were "significantly higher than elsewhere".
The fringe meeting at the 'Ulster Fry' breakfast in Manchester was attended by the DUP, UUP, Sinn Féin and the Northern Ireland Conservatives.
Sinn Féin MP Michelle Gildernew described the political atmosphere at Stormont and around the executive table as "difficult". She warned that if the Haass talks did not resolve the outstanding issues "the peace process could start to unravel".
'Facetious remarks'
That claim was dismissed by DUP MEP Diane Dodds, who played down talk of a political crisis at Stormont. She said: "The political institutions are stable, perhaps Sinn Féin are in crisis."
Earlier Ms Gildernew had said First Minister Peter Robinson was in Florida during the summer "working on his tan" while Sinn Féin was helping working-class communities.
Mrs Dodds said such "facetious remarks are not helpful", and she criticised Sinn Féin for behaving in an "insensitive manner" over the summer.
The UUP MLA Danny Kinahan said he hoped the Haass talks would produce political consensus. He expressed doubts about the timescale and said: "I think the deadline may be too short."
He added that "there is so much more needed on the ground to get there".
The co-chair of Northern Ireland's Conservatives, Irwin Armstrong, questioned the need for the Haass talks process.
He said: "Why do we need Haass, why do we keep looking for outsiders?"
He suggested that local politicians should sort the outstanding issues out amongst themselves.
Ms Villiers will address the party conference on Wednesday.