Labour rules out Royal Mail renationalisation pledge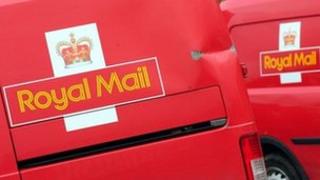 Labour will not promise to renationalise Royal Mail after it is privatised, shadow business secretary Chuka Umunna has confirmed.
But he spelled out a series of new obligations that the party would place on the company.
The announcement came shortly before Royal Mail shares are to be sold.
Labour's conference voted to commit the party to renationalisation, but sources made it clear at the time the policy would not be adopted by the leadership.
The government will sell between 40.1% and 52.2% of Royal Mail under its privatisation proposal, which gives the company a value of £2.6bn-£3.3bn.
In addition, 10% per cent of its shares will be given to Royal Mail employees.
Mr Umunna said the party would require Royal Mail to deliver services through the Post Office beyond 2022, when the current agreement between the two expires.
There would also be a new, but unspecified, price control on stamps and new requirements on other postal operators.
'Safeguarding' services
He said Labour would "secure" the universal service obligation - which guarantees post can be sent anywhere in the UK for the same price - beyond 2015.
The party argues the obligation is vulnerable because it could easily be weakened by a statutory instrument in Parliament.
Mr Umunna characterised the announcement as an attempt to "safeguard" the services that consumers and businesses will receive from a privatised Royal Mail.
Writing on the Huffington Post website he said: "I have been very clear that we are not in a position to pledge to renationalise Royal Mail if we get into government in 2015.
"I do not know how much Royal Mail shares will be trading at in May 2015, so I do not know how much it would cost to renationalise.
"No credible future business secretary would therefore make such a pledge."
The Communication Workers Union proposed a recent Labour conference motion calling for renationalisation, but is expected to welcome the proposal for new obligations to be placed on the company.
Before the conference Mr Umunna told the BBC's Sunday Politics that he would not write a "blank cheque" to renationalise Royal Mail.
Ministers argue privatisation will give Royal Mail access to private capital needed to modernise its business.
The last Labour government planned to sell a 30% stake in Royal Mail but Lord Mandelson dropped the proposal in 2009, blaming a lack of credible bidders.