David Cameron leads emotional tributes to Margaret Thatcher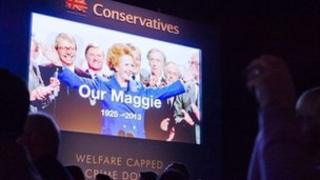 David Cameron has led tributes to Lady Thatcher at the start of the Conservatives's annual conference, saying "she saved the country".
The prime minister was among senior Tory figures to appear in an emotional 10-minute video called Our Maggie.
The video was beamed into a packed conference hall in Manchester.
Party members gave the film a prolonged standing ovation, with many visibly moved by the sentiments expressed in it.
Baroness Thatcher died in April and received a Ceremonial Funeral at St Paul's Cathedral, attended by the Queen.
On the same weekend her ashes were buried, Mr Cameron said the former premier's greatest legacy had been to "save our country".
"She was a conviction politician... she did not believe in accepting the consensus," he said in the tribute film.
"She was a great Conservative because she put Conservative principles into action.
"She knew it was not enough to debate, to think, to talk - you need to act.
"That's what she did - she reshaped Britain in a new Conservative mould... she saved our country, that is her true legacy."
The film, which was released on social media before the conference began, touched on key Thatcherite policies of encouraging home ownership, privatisation and the "export of freedom" in the choice to stand against the Soviet Union during the Cold War.
The Falklands war was also the focus of a major section of tributes.
Among those featured were Chancellor George Osborne, Baroness Thatcher's friend Conor Burns MP and Conservative MP Priti Patel.
Also commenting were figures from the Thatcher era itself, including Lord Parkinson, Lord Young, Lord Lexden, Lord Hurd and Baroness Shepherd.
After the standing ovation, Conservative Party chairman Grant Shapps told the conference "if Maggie were here today" the policy she would be "most proud of" would be "1.4 million private sector jobs created under this government".
He also cited the 2.7 million people "removed from income tax" - originally a Lib Dem policy - as an example of something the former prime minister would have approved of.
A conference selling Thatcher-themed merchandise is already doing brisk business in the exhibition hall at Manchester.
Items include babygros with the slogans "Iron Baby" and "Little Iron Lady" and T-shirt's quoting: "The problem with socialism is that eventually you run out of other people's money".
Cards, books, key rings and branded beer are also available to buy.