David Cameron wants leader debates before campaign begins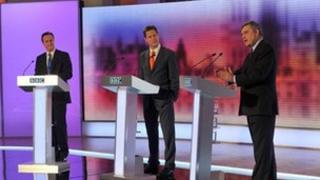 David Cameron has backed televised leader debates at the next election - but suggested they should take place before campaigning gets under way.
He told the BBC's Andrew Marr he did not want them to overshadow the campaign as he says they did in 2010.
He also rejected calls by UKIP leader Nigel Farage to be allowed to take part, saying they should be restricted to potential future prime ministers.
It comes as William Hague ruled out an electoral pact with UKIP.
Televised leader debates - long a feature of elections in the US - were held for the first time in the UK in 2010, on three successive weeks leading up to polling day.
Some Tory strategists believe it was a mistake for Mr Cameron to agree to them, arguing that they allowed Lib Dem leader Nick Clegg to seize the initiative from the Tory leader.
'Regret'
The surge in support for Nick Clegg after the first debate was not ultimately reflected at the ballot box but, argue Tory insiders, it did destabilise the Tory campaign.
Mr Cameron hit back at speculation he would attempt to block debates in 2015, saying: "I want the debates to take place. They were good in the last election."
But he added: "I thought they took up too much of the campaign, so I think we could start them a bit earlier.
"My only regret is that if you are leading a political party, the election campaign is a moment when you really want to get around the country, you want to have arguments and interviews, and I found the whole election was just the run-up to the debate, the debate, and the analysis of the debate.
"Now we've got a fixed-term Parliament, we can stretch those things out a bit."
Mr Cameron said there was "lots of time for negotiation" over the exact format of the broadcasts before the election scheduled for May 2015 - but made it clear the TV clashes should be restricted to himself, Mr Clegg and Labour leader Ed Miliband.
"I think the debate predominantly should be about people who have a prospect of becoming prime minister," Mr Cameron told the BBC's Andrew Marr show.
UKIP 'pact'
Asked if he thought that Nigel Farage - whose UKIP party regularly tops the Lib Dem in opinion polls - could potentially be prime minister in 2015, he replied: "I don't think so, no."
Foreign Secretary William Hague has meanwhile ruled out an electoral pact with UKIP, after a BBC poll suggested nearly 25% of Conservative councillors were in favour of such a deal.
Some Conservative backbenchers have suggested a deal with UKIP is necessary to avoid splitting the right-wing vote and allowing Labour leader Ed Miliband into Number 10.
But Mr Hague said the Conservatives "don't make pacts with other parties" and instead warned wavering Tory supporters they risked letting Labour into power.
"They might be voting for UKIP because they want to have a referendum on Europe. Well, they are only going to get that if David Cameron is prime minister after the next election," he told BBC Radio 5 Live's Pienaar's Politics.
Mr Hague also said he would set out more detail on the government's plans to renegotiate Britain's relationship with the European Union before next year's European elections.
'Severe dislike'
Senior UKIP member, Diane James, says there are "no ongoing discussions" about electoral pacts with the Conservatives.
Ms James, who came second in the Eastleigh by-election in February, said the lack of a pact would not increase the chances of Labour winning the election.
"There are a number of seats out there that are very clear marginals, just like Eastleigh was," she told Sunday Politics.
"I believe fundamentally UKIP will be a driving force in those marginal seats and could easily, just as I did on the day, take that vote and ultimately be an MP representing UKIP in the House of Commons."
She said UKIP's leader Nigel Farage would be more likely to came to some kind of a deal with London Mayor Boris Johnson than David Cameron.
"Nigel has made no secret... that he would be open to a discussion - let's call it nothing more than a discussion - with Boris," she said.
"He's been absolutely adamant however he doesn't see any reason, any justification or any opportunity where he would be able to have that discourse with David Cameron.
"Maybe it comes down to severe dislike on both sides. I have no idea."
A ComRes survey for BBC One's Sunday Politics found 22% of Tory local councillors supported a pact with the UKIP.
A Tory source said: "80% of our councillors didn't respond to this survey so it's hardly representative. It should be taken with a large pinch of salt."