UK to host Nato annual summit next year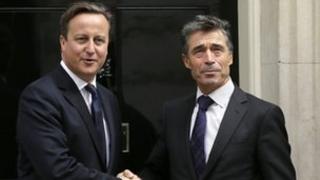 The UK is to host the annual summit of Nato members next year, for the first time since 1990, No 10 has announced.
Margaret Thatcher was the last British prime minister to host the event, previously held in the UK in 1977.
Downing Street said the meeting would be critical in ensuring the defence and security alliance remained a "relevant force fit for the 21st Century".
There are currently about 87,000 troops in Afghanistan under Nato command, the bulk due to leave by the end of 2014.
In a statement, Prime Minister David Cameron said the 28-member organisation remained the cornerstone of the UK's national security.
'At the forefront'
He said the meeting would be an opportunity for leaders to recognise the "contribution and sacrifice" made by the joint Nato-Isaf mission Afghanistan as "Nato draws down its forces and looks to help Afghanistan in different ways".
Mr Cameron added: "The summit will also be about the future of our alliance.
"Britain has always been at the forefront of shaping the alliance, from its start in 1949 to Nato's current operations.
"The 2014 summit will be critical in ensuring Nato remains a relevant, modern, adaptable force fit for the 21st Century."
The dates and venue for next year's event are to be announced in due course.