Welfare-to-work provider penalised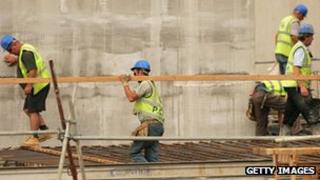 One of the main firms running the government's welfare-to-work programme has been punished for poor performance.
A4E will see a cut in the number of referrals in the East Midlands, South Yorkshire and Merseyside, following an analysis of all contractors by the Department for Work and Pensions (DWP).
Ingeus and G4S will gain referrals as a reward for better performance.
A4E said it set itself "extremely high standards" and was "confident" of making improvements.
Other firms losing referrals include Avanta and the Newcastle College Group.
'Right support'
Under the UK-wide Work Programme, better known as welfare-to-work, providers are paid to help get people back into long-term work.
They get most of their money when someone has stayed in work for six months, or three months for the hardest to help.
Those who have been on the scheme for the maximum two years and fail to find sustainable employment are returned to Job Centre Plus, the standard arrangement for jobseekers.
More than 168,000 jobseekers had been helped into a lasting job through the Work Programme to the end of June - two years after its launch, the DWP said. This was an increase of 37,000 in the three months to June.
Employment Minister Mark Hoban said: "Previous schemes didn't provide the right support for the long-term unemployed and offered poor value for money for the taxpayer.
"We launched the Work Programme to tackle this so people got the help they needed to find a job and, crucially, given support to stay in work."
'Punishing'
He added: "Today's figures show that large numbers of people previously at risk of long-term unemployment are finding a job and staying in work for six months and more.
"This gives people hope that they can achieve their aspiration of looking after themselves and their families."
In a statement, A4E said: "The market share shift implemented by the DWP has highlighted some regions where we are narrowly behind our competitors in supporting some customer groups.
"This shift represents less than 1% of the many thousands of jobseekers who are - and will continue to be - referred to A4e's Work Programme each month."
It added: "We set ourselves extremely high standards and have already taken practical steps to improve performance in these areas. We are confident that the progress we're seeing will close the reducing gap between us and some of our competitors within the coming months."
But TUC general secretary Frances O'Grady said the Work Programme was "still failing to deliver for many jobseekers".
She added: "Although there has been an increase in placements for those on the dole these improvements are starting to tail off.
"The government is obsessed with punishing those out of work, rather than helping them find jobs. The best way to get to grips with our unemployment crisis would be to offer a jobs guarantee for anyone out of work for at least a year."
By the end of June, more than 1.1 million people had been referred to the Work Programme, which will run until 2016.
The DWP's figures show almost 15% of people referred to the programme have been found sustainable employment.