Plan to divert benefits of troubled families scrapped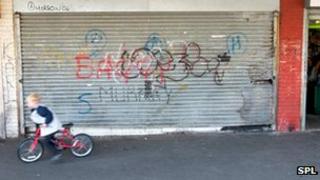 A plan to put benefits paid to some of Britain's most troubled families under their caseworker's control has been shelved, BBC Newsnight has learned.
The Downing Street Conservative Policy Unit wanted to give managers of the Troubled Families Programme more power to prevent the misuse of payments.
However, senior Liberal Democrats, including Treasury Secretary Danny Alexander, blocked the proposal.
The Troubled Families scheme is aimed at improving 120,000 families' lives.
It was launched by the government in April 2012, in the wake the riots in cities across England, and Prime Minister David Cameron said it would be used to "turn around the lives of 120,000 most troubled families" by the end of the current parliament in 2015.
The government defines "troubled families" as those experiencing problems including crime and anti-social behaviour, school exclusion or truancy, and containing no working adults. Families need to meet five out of seven criteria to be classified as "troubled".
Because they are grappling with a range of social issues these families are each said to cost the taxpayer about £75,000 a year; and in total cost the state around £9bn a year.
The Troubled Families Programme, led by Louise Casey, believes that by giving them intensive and co-ordinated support they can escape the cycle of deprivation and transform their lives.
However, senior figures in government are concerned at the progress of the scheme and worried that time is running out.
If a family hits a series of specific goals on measures including improved school attendance, a reduction in anti-social behaviour and reduction in juvenile crime, it is considered to have been turned around.
In January, there were 1,675 families deemed to have been turned around, a fraction of the 120,000 target for 2015.
Ministers are keen to give the programme's managers more powers to ensure success.
Conservatives had wanted to announce the change to how benefits are controlled, which would ensure that parents with addiction problems could not compound their situations by using benefits to pay for drink or drugs, at their party conference which opens in Manchester this weekend.
But their plan was blocked by Liberal Democrats.
However, Newsnight understands that the Department for Communities and Local Government (DCLG), which spearheads the scheme in Whitehall, is also said to have had concerns about using the troubled families programme as a benefits sanction regime.
A DCLG spokesperson confirmed the change to the programme had been in consideration, but had been dropped.
Last year the work and pensions secretary Iain Duncan Smith proposed that each troubled family should receive their welfare payments on "smart cards" rather than in cash. The cards would then only be able to pay for essential items like food, housing and clothing.