Ed Miliband challenges Cameron to election TV debate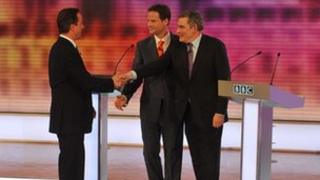 The Labour leader Ed Miliband has challenged David Cameron to take part in televised debates during the general election campaign.
He said the prime minister should stop "ducking and diving" and agree to the party leader showdowns introduced for the first time in 2010.
The move would allow the country to "make its choice", he added.
He was addressing party members in Brighton as the annual Labour conference drew to a close.
Celebrating his promise to freeze gas and electricity prices until 2017 should Labour win, he said: "We know where David Cameron and Nick Clegg stand. They just want to allow energy prices to keep on rising.
"We should have that debate over the coming months. We should also have that debate in the TV election debates."
Farage dilemma
Mr Cameron said earlier this year he was "in favour of them".
"I think they are good and I think we should go on having them, and I will play my part in trying to make that happen," he told Sky News.
Whether or not to include Nigel Farage in any such debate is expected to complicate the arrangements in 2015 - Mr Farage says he should take part given his UK Independence Party's poll ratings.
The debates "should be about... the parties that are going to form the government", the prime minister said in January
The televised prime ministerial debates in the 2010 election campaign were the first in the UK.