Labour calls on PM to 'sack' benefits test company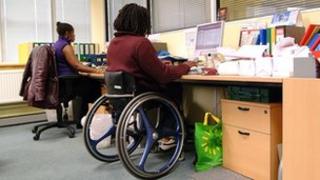 The company that carries out "fitness-for-work" tests on disabled benefits claimants is a "disgrace" and should be sacked, Labour has said.
Shadow work and pensions secretary Liam Byrne said the tests would "have to stay" under a Labour government.
But he told delegates at the party's conference that current assessors Atos gets "too many" tests wrong and delivers "poor value for money".
The company defended its "professional and compassionate" service.
The French IT firm is paid by the government to carry out "work capability assessments" for people applying for the sickness benefit employment and support allowance, as well as people who were previously on incapacity benefit.
It was told to improve its services by MPs in July after an "unacceptable reduction" in the quality of its written reports.
A government audit, which analysed 400 reports, followed concerns being raised over the firm's services.
Speaking to Labour activists in Brighton Mr Byrne said: "I say to David Cameron, Atos are a disgrace, you should sack them and sack them now."
But he added: "We need a system that delivers the right help to the right people, so assessments have to stay."
An Atos Healthcare spokesman said: "We do everything we can to treat people with sensitivity and compassion."
Hate crimes
Outlining a package of measures, Mr Byrne said disabled people were "threatened by hate crime, by Atos and by the bedroom tax" - the cut in housing benefit to social housing tenants deemed to have too many rooms which Labour has pledged to reverse.
He said Labour would "change the law so hate crime against disabled people is treated like every other hate crime".
Earlier this year, police, prosecution and probation inspectorates warned that victims of disability hate crime were being let down and attacks not properly recorded - partly because it was not clearly defined in law.
It followed high-profile cases such as that of Fiona Pilkington who ended years of torment by killing herself and her disabled daughter.
The Labour frontbencher also pledged to make another of the government's key social security reforms work.
"We need universal credit to work," he said. "So if the government won't act to save it, we will."
He said he was announcing a "rescue committee" to salvage the policy, which is intended to ensure those claiming would always be better off in work.