Labour conference: Union warnings to Miliband on reforms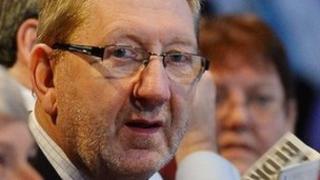 Union leaders have told Ed Miliband at the Labour conference they will retain their voice in the party, despite moves to reform their relationship.
Paul Kenny, leader of the GMB, which has slashed its funding of the party, said the unions would not bin 100 years of shared history for a "gimmick".
Unite leader Len McCluskey said: "No one is pushing us out of our party".
Mr Miliband wants union members to opt into party membership rather than be automatically affiliated.
The Labour leader's proposals, due to be debated at a special conference in London next Spring, have caused anger among some in the trade union movement, even though they are likely to affect individual members only at this stage.
'Wealthy outsiders'
It is not thought likely issues such as the ability of union leaders to cast votes on the behalf of their members at the party's annual conference - the so-called "block vote" - will be addressed until after the 2015 general election,
The proposed changes were the subject of a short debate on the first day of the Labour Party conference in Brighton.
Mr Kenny was given the job of speaking on behalf of the 14 trade unions affiliated to Labour.
He said: "The desire to expand party membership is a shared one, but let nobody be under any illusion that as collective organisations, the removal or sale of our collective voice is not on the agenda.
"We are certainly not going to accept any advice on democracy and transparency from the people who brought us the cash for honours scandals, or whose activities are funded by cash from wealthy outsiders who refuse to give to the party but prefer to lay cuckoos in CLP (Constituency Labour Party) nests.
"We can expand ad infinitum the number of people we bring into the tent, but if what they say is ignored, as has been the case in the past, in favour of dinner party babble, then why bother?
"Be assured, the collective voices of millions of working people and their families, and 100 years of shared history, will not be washed away or sold for an election gimmick."
'Zero hours'
The GMB leader received a standing ovation from union leaders inside the hall.
Len McCluskey, the general secretary of Unite, Labour's biggest financial backer, also made it clear that any reforms must not dilute the movement's voice within the party it created a century ago.
Speaking at a Daily Mirror/Unite fringe meeting, he "No one is pushing us out of our party."
"My challenge to Ed Miliband is to make it clear that the Labour Party is the party of ordinary working people, is the party of organised Labour.
"Labour has no God-given right to exist. It can only exist if it speaks for ordinary working people, so instead of the challenge always being heaped on trade unions or ordinary workers, my challenge to our party is to demonstrate that you are on our side."
He also attacked the "evil" of flexible labour markets and "zero hour contracts" - and he urged Labour shadow ministers to "stand up" to the right wing press.
The meeting also heard from a young single mother who relies on food banks to feed her family, a disabled woman who faces benefit cuts and a 107-year-old North London woman, Hetty Bower, who warned about a return to the poverty of the pre-welfare state era.