UKIP 'on course' to be force in 2015, Farage insists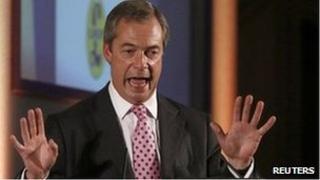 UKIP is still on course to be a significant political force in the 2015 general election despite the furore over Godfrey Bloom's comments about women, Nigel Farage has said.
He said his party had "fundamentally changed" the national debate on Europe, immigration and education.
Mr Farage later said Mr Bloom's future in UKIP "doesn't look very good".
The MEP had the party whip removed after joking that a group of female activists were "sluts".
Mr Bloom made the comments while addressing a "women in politics" event at UKIP's annual conference.
'Deeply offensive'
Mr Farage told BBC Radio 4's Today programme that he was "pretty hacked off" that Mr Bloom's remarks and his subsequent striking of a journalist with a conference brochure had distracted people from the conference's political message.
"I want us to be a party of free thinking, I want us to push the boundaries of debate," Mr Farage said.
"We've been good at that on several issues... but at the same time I don't want people saying things that are deeply offensive and take the message away from where it needs to be."
He added: "We have fundamentally changed the national debate on Europe, immigration, education and I really believe that given the trajectory UKIP's on there is a real opportunity for us to get significant representation in 2015."
Mr Farage said Mr Bloom had, over the course of the summer, done "his best to garner as many headlines as possible, and you can laugh occasionally".
He said he thought Mr Bloom thinks "it's all a big joke".
He said later that he expected a final decision on any disciplinary action against Mr Bloom to be resolved "in a couple of weeks".
Of Mr Bloom's future as a UKIP politician said, Mr Farage told the BBC: "It doesn't look pretty... it doesn't look very good".
And when asked if he could see the MEP appearing in UKIP election leaflets for next year's European elections, Mr Farage replied "no".
He insisted, however, that leading a "serious" party did not mean becoming a "cardboard cut out" politician.
He said: "Over the course of the past couple of years I've taken this party from being very small and from being continually mocked as being a joke and we're a serious force in British politics.
"Yes of course we've got a few eccentric people... but I'm just not going to be bound in by political correctness and be forced to change who I am."
In his keynote speech at the UKIP conference on Friday, Mr Farage predicted UKIP would cause a "political earthquake" at next year's European elections.
On Saturday he said he wanted his party to win the European elections and "on the same day, win hundreds of council seats to work out what our target seats are for the general election in 2015, to get a good representation of UKIP MPs in Westminster".
"Who knows, we might find ourselves holding the balance of power," he added.