UKIP conference: Party calls for fracking wealth fund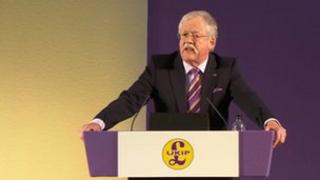 Profits from shale gas extraction should be put in a state investment fund to ensure they are not squandered, the UK Independence Party has said.
Roger Helmer, the party's energy spokesman, hit out at opponents of so-called "fracking", dismissing protesters as "eco freaks".
He told his party conference the UK should focus on "grown-up" sources of energy, such as gas, coal and nuclear.
And he dismissed wind power and other renewables as "playground technology".
Mr Helmer, a former Conservative politician who joined UKIP last year, was speaking on the first day of the party's annual gathering in London.
'Economic windfall'
He pointed to the example of Norway, which has invested North Sea oil revenues in a sovereign wealth fund for decades, as to how the UK should maximise the benefits of shale gas.
"UKIP is calling for our tax revenues from shale gas to go into a British sovereign wealth fund," he said.
"That way we will ensure that the benefits of this economic windfall will serve the interests of all the people of this country, not only today but for generations to come."
He told activists he respected local opponents of the controversial hydraulic drilling but hit out at Green Party MP Caroline Lucas and other high-profile campaigners who have opposed drilling at Balcombe in West Sussex.
"I have absolutely no sympathy for the rent-a-mob protesters, the Swampies and the Occupy Movement and the anti-capitalists and eco-freaks who have sought to hijack the Balcombe protest," he said to cheers from supporters.
He listed fashion designer Vivienne Westwood and human rights activist Bianca Jagger among those he said were using Balcombe residents' concerns "for their own political ends".