UKIP visa insurance plan to curb 'health tourism'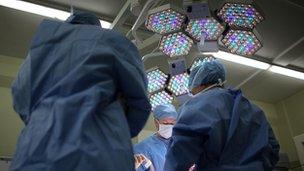 Migrants from outside the EU would have to have medical insurance to enter the UK under plans by the UK Independence Party to curb "health tourism".
UKIP says the current system in which hospitals recover costs from foreigners not entitled to free care is not working, with abuses being ignored.
Instead, they propose making a visa conditional on having health cover to "reduce the burden" on the NHS.
The coalition is looking at ways to restrict migrants' access to the NHS.
The UKIP initiative is being announced ahead of the start of its annual party conference on Friday.
At the moment, foreigners can register with a GP practice and receive free consultations whether they are lawfully in the UK or not.
Migrants from outside the European Economic Area - which comprises 27 members of the European Union, Iceland, Liechtenstein and Norway - are required to pay for hospital treatment while in the UK but only a fraction do at the moment.
UKIP says so-called "health tourism" - where migrants deliberately come to the UK to access free care they are not entitled to - is a "growing problem" and is costing the taxpayer substantial sums of money.
Hospitals are expected to identify foreign patients and invoice them to recover the cost of treatment but UKIP say this is simply not happening in many cases.
"Many hospitals are overburdened with long waiting times and do not want to act as immigration officials while the NHS is already buckling under the weight of administration," Tim Aker, the head of the party's policy unit said.
"Many trusts simply brush under the carpet these claims in order to cover up their liability to unpaid costs."
Under UKIP's plans, migrants would have to provide their insurance details when they registered with a GP and the costs of any treatment would be recovered from insurers by the NHS.
"This is a simple and effective way of ensuring healthcare is available to all who come to Britain as a tourist or migrant, without opening the system to abuse," Mr Aker added.
"It is a long overdue step in the right direction to bringing the NHS back round to what it was set up to be: a national health service, not an international service."
Emergency treatment would still be free at the point of delivery to all, while migrants would be eligible for free NHS care once they had worked for five years and paid tax and national insurance on their income.
Asking migrants to pay for care through private insurance is one option currently being looked by the government as part of its efforts to get non-EU nationals to make a proper contribution towards the cost of treatment.
Another idea being considered, as part of a consultation launched in July, is to require migrants to pay a levy of £200 when they apply for a visa of more than six months.
Residency rules could also be tightened on free treatment, with only those granted indefinite leave to remain in the UK entitled to free care, while more services, such as access to GPs, would be chargeable.
Separately, the Department of Health is reviewing how hospitals can more effectively recover money and enforce charges - with ministers acknowledging that current procedures are "flawed".
The Department of Health has said the cost of treating foreigners is at least £30m a year for the NHS in England alone, although practitioners have said the figure could be much higher.
However, GPs have expressed concerns about being asked to enforce any new rules, saying their duty is to the patient and not to establishing their immigration or financial status.