Free school meals: Popular with parents and politicians?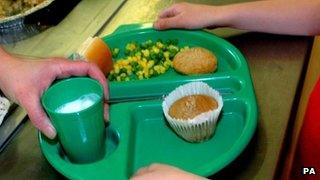 Kids get free food, families get help with the cost of living and the Lib Dems get a popular policy to brand as their own.
Little wonder Nick Clegg's troops are relishing this moment.
They will enthusiastically compare the provision of free school meals for young children with Conservative demands for married couples' tax breaks.
It fits the way Lib Dems like to present themselves, and the way they want to present the Tories.
Labour will be challenged to commit to the policy, by opponents and their own activists alike.
We know how much it will cost - £600m a year - but we do not know how much of that will go to families that can well afford to pay for meals.
Some argue there are innate benefits in every child getting free school lunches whatever their income - including a lack of stigma and a chance to eat together.
But a millionaire's child will get the same benefit as a kid from a family living on the minimum wage
Boost to attainment
Lib Dem spokesmen cite evidence of pilots in County Durham, and in Islington and Newham in London, to prove the policy's effect on attainment.
We cannot know whether the impact there will be matched across England, particularly in the wealthiest areas.
Scots may wonder why Nick Clegg chose to announce a policy to benefit English children in Glasgow. Critics will question the coherence of a government that cuts child benefit for better off families then pays for the same kids' dinners.
For all that, giving people something for nothing is rarely unpopular, even when they are paying for it through their taxes.
Plenty of people in education will attest to the hopelessness of trying to teach a hungry small child.
And this announcement will stick in voters' minds after the political spats of this conference are long forgotten.