What the weapons detail in UN Syria report reveals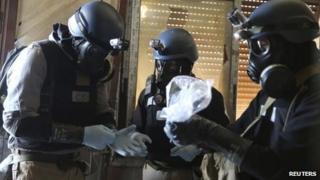 To say that the United Nations' report on the alleged chemical weapons attacks that took place in the Ghouta area of Damascus on 21 August, claiming, according to various estimates, 200-1,400 lives, had been eagerly anticipated would be to put it mildly.
But although much has been clarified by the report, the UN team's terms of reference and the hectic pace of diplomacy since the field teams flew back to The Hague with their samples have blunted its language.
The UN inspectors conducted a rigorous inquiry designed to preserve a "chain of custody" with their samples that would measure up to court room standards. These were tested in two different laboratories as a safeguard against false positives.
The field team, headed by a Swede was made up of experts drawn from countries other than the UN Security Council's permanent five - China, France, Russia, the UK and US.
Rocket markings
Their biggest body of evidence concerned tests conducted on people, surroundings and rocket fragments for the nerve agent sarin. Blood tests showed that 85% of the patients tested proved positive for it. One lab returned 91% and 100% positives on urine samples from patients in two Damascus suburbs.
Ammunition fragments too displayed "clear and convincing evidence that surface-to-surface rockets containing the nerve agent sarin were used in Ein Tarma, Moadamiyah and Zamalka", the report said.
UN Secretary General Ban Ki Moon said that their report "makes for chilling reading".
Those who argue with the American version of events which puts blame for the attack at the feet of the Assad regime - critically the Syrian and Russian government - do not dispute that sarin was used. In fact it was Syrian officials, blaming opposition terrorists, who first stated it was sarin. And Russian President Vladimir Putin wrote in the New York Times last week, "no one doubts that poison gas was used in Syria".
But the UN inspectors do give the lie to certain conspiracy theories, for example about opposition fighters releasing poison from tunnels - the inspectors are clear that the attack was carried out with rockets that tested positive for the agent.
And whoever Russia holds responsible, it is hardly great PR that one of the missiles photographed by the UN, has markings that apparently indicate that it was manufactured in Novosibirsk in Russia. The code 179, say experts at the Royal United Services Institute, is distinctive of the Sibselmash plant in that city.
The 140mm multiple rocket launcher round is identical to sarin rounds recovered in Iraq, the rocket being designed to fire from a BM-14 multiple rocket launcher, a standard Warsaw Pact system for delivering smoke and high explosive as well as chemical agents.
Angle of impact
Could rebels have used these rocket launchers? Well they have certainly captured some BM-14s. But do they possess chemical rounds for them and could they really have fired so many rockets, including much larger 330mm weapons too, into so many neighbourhoods surrounding Damascus during the early hours of 21 August?
The attribution of blame was not part of the inspectors' mandate. But there are certainly pointers - some of them literally so.
The inspectors write of "a relatively large scale" of chemical attack. Most intriguingly they also included information on the bearings on which two of the sarin rockets had been fired.
At Site 1, Moadamiyah, a BM14 rocket had impacted at an angle of 35 degrees. At Site 4, Ein Tarma, a larger 330mm rocket embedded in the ground gave a bearing of 285 degrees. Extend these two lines in the direction from which the rockets were fired and you are soon in government held Damascus. Critics of the Assad government, such as France or the US, feel their point has been made.
However the UN secretary general and his inspectors have declined to point the finger explicitly at Syria's government. They still intend to investigate three chemical weapons incidents that took place before the 21 August attack, indeed that was the original aim of their mission in Syria.
Furthermore, there is every prospect that officials will wish to travel to Syria in the next couple of months, as the process of declaring and registering its chemical weapons stockpile goes ahead. Russia's support is vital for that, as is access and so for the moment diplomatic necessity appears to have trumped plain speaking for the UN.