Lib Dem conference: Call for curbs on bookies spreading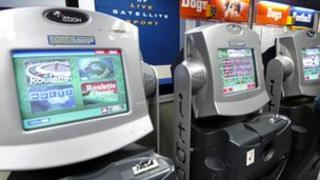 The Lib Dems have backed a call to give councils the power to limit the number of betting shops in their area.
The party voted to curb the proliferation of bookmakers they say has been driven by a boom in high stakes roulette machines.
Fixed odds betting terminals are now major source of profits for bookies.
The vote gives local government minister Don Foster, who proposed the motion, a mandate to push for it to become law.
Speaking at the party's conference in Glasgow, he argued that the growth of betting shops has been driven not by betting on sporting events, like horse racing or football, but by FOBTs, which had turned them into "mini-casinos in the High Streets".
Maximum payout
Unlike fruit machines in pubs, bingo halls and amusement arcades, where stakes are limited to £2, gamblers can bet up to £100 every 20 seconds on so-called fixed odds betting terminals - more than four times as fast as the rate of play in an actual casino.
The maximum payout is £500.
Mr Foster said FOBTs were responsible for an ever-higher percentage of these shops' profits and earned the big bookmakers "an incredible £1bn", adding that some high streets now had "clusters" of up to 18 betting shops.
He suggested there is a link between a large presence of betting shops in many areas and rates of crime and anti-social disorder and they should be re-categorised within the planning system to make it easier for councils to reject new venues.
Under the amended motion passed by the Lib Dems, councils would be able to specify how many betting shops would be allowed to open in an area.
In his previous role as a minister at the Department for Culture Media and Sport, Mr Foster tried to cut stakes to £2 - something the government has the power to do under the terms of the 2005 Gambling Act, without passing new legislation.
Instead the Conservatives agreed to include FOBTs in a triennial review of stakes and prizes of conventional fruit machines. Culture Secretary Maria Miller is expected to keep stakes at their current level when she announces the outcome of the review.
Mr Foster said he believed in policy based on evidence - but it had reached the stage where he believed the bookmakers should be properly held to account - particularly as FOBTs have just been banned in the Irish Republic.
'Mainstream leisure activity'
The industry claims there is no direct evidence that FOBTs are addictive and is drawing up a new code of practice to protect gamblers from harm.
Giving evidence to a parliamentary committee last year, the Association of British Bookmakers said gambling was a "mainstream leisure activity" and betting shops should be treated like any other retail sector on the High Street.
William Hill said there had not been any "significant increases" in store numbers in specific areas since 2005 and that competition, rather than the prevalence of fixed-odds machines, was responsible for any clustering.
Ex-professional poker player Derek Webb said the Lib Dem motion was a "step in the right direction" but it did not address an underlying problem of stakes and prizes being too high.
Labour is also backing calls for action on FOBTs, despite passing the legislation that created them when they were in power.
Tottenham Labour MP David Lammy has expressed concerns about their growth in economically deprived areas and the impact on rates of problem gambling.
At the moment, betting shops are classified alongside banks, building societies and estate agents but the Lib Dems say they should be considered in isolation.
A 2011 review into the future of High Streets led by Mary Portas described gaming outlets as a "blight" and suggested their proliferation was creating unsightly "clusters" on struggling retail hotspots.