Tim Loughton to apologise for Sarah Teather family jibe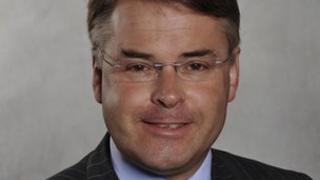 A former Tory minister has said he will apologise to ex-Lib Dem minister Sarah Teather for remarks he made about her.
Tim Loughton told a Conservative conference ex-minister Ms Teather had harmed coalition policy because she "doesn't really believe" in family.
"She certainly didn't produce one of her own," he was heard saying in a recording from the event obtained by the Daily Telegraph.
He later insisted he had not intended to criticise Ms Teather personally.
During his address to activists at the Conservative Renewal event in Windsor, Berkshire, at the weekend, Mr Loughton described the Department for Education (DfE), where he and Ms Teather were ministerial colleagues, as a "family-free zone".
Both lost their jobs last year.
"The person who was actually in charge of family policy amongst the ministerial team at the DfE was Sarah Teather, which was a bit difficult because she doesn't really believe in family," Mr Loughton can be heard saying.
"She certainly didn't produce one of her own, so it became a bit of a family-free zone. I think that is a huge disappointment."
Taking to social network Twitter after his comments had been published, Mr Loughton suggested the Telegraph had "distorted" them.
"My criticism was lack of Lib Dem family policy not of Sarah Teather personally who I always respected," he wrote.
'Disgusting'
"I will of course apologise to Sarah for the comments that have been reported and were certainly not intended or indeed said in that way."
He added: "Final thought - strange that no one raised these comments at event on Saturday including Telegraph journo in audience & who spoke to me after."
Lib Dem Jo Swinson said: "Using someone's lack of children as an insult is shameful, crass and, frankly, disgusting. It reflects far more on him than on Sarah."
Mr Loughton was talking "absolute rubbish" she added, defending her party colleague's record as a minister.
Labour waded into the row, with shadow equalities minister Kate Green adding: "It is not the case that people who do not have children of their own do not care about families.
"Children are everybody's future; society as a whole has a stake in their well-being."
Ms Teather, who, at 29, became the youngest MP in Britain when she was first elected in 2003, recently announced she would be standing down from Parliament in 2015 in protest at coalition policies.
She could not be reached for comment on Monday evening.