Cyril Smith abuse allegations 'shock' for Nick Clegg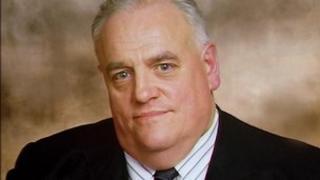 Sexual abuse allegations against the former Lib Dem MP Sir Cyril Smith are shocking and must be investigated "to the bitter end", Nick Clegg has said.
The party's leader said victims needed to feel "justice is on their side".
Police have said young boys were abused by the late MP at a children's home he opened in the 1960s. He was never prosecuted.
Concerns have been raised that a dossier of evidence against him went missing in 1970.
Channel 4's Dispatches programme last week revealed details from the file and made allegations of security services involvement.
Mr Clegg told BBC Radio 5 live: "I'm shocked and appalled by the allegations I've seen.
"I would like to see the police and the long arm of justice, even after all these long years, finally pursue this to the bitter end."
Smith was first a Liberal councillor then MP. He was knighted in 1988 and died in September 2010.
Lawyers for the abuse victims have said they are considering taking action against the Liberal Democrats.