Lib Dem conference: Danny Alexander says Trident policy not a risk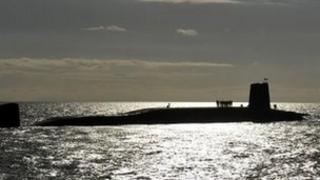 Danny Alexander has rejected claims the UK could be vulnerable to surprise nuclear attack if round-the-clock Trident submarine patrols are axed.
The chief secretary to the Treasury said the policy - to be debated at the Lib Dem conference on Tuesday - was "credible, realistic and achievable".
And it could be on the table in any coalition talks after the next general election.
But the policy was ridiculed by Lib Dem peer Baroness Falkner as "incoherent".
Mr Alexander led a Whitehall review of alternatives to the Trident weapons system, which suggested the number of nuclear-armed submarines on patrol could be cut from four to three, as the existing system was a relic of the Cold War.
'Step down'
The document was rejected as "naive or reckless" by defence secretary Phillip Hammond and the Conservatives remain committed to a like-for-like replacement for Trident.
But Mr Alexander told a fringe meeting at the Lib Dem conference in Glasgow that it was an "important" policy for the party - and not just because it would save money.
It would also be a "step down the ladder of nuclear disarmament".
But an attempt by Lib Dem members to commit the party to unilateral disarmament would "simply remove from the table" the issue in any coalition negotiations because neither of the two main Westminster parties would be prepared to adopt such a policy.
The Lib Dem leadership has refused to specify what their policy "red lines" would be in any coalition negotiations after the 2015 election.
But Mr Alexander said: "This is an important issue, it's an important issue at this conference, it will be an important issue in our election manifesto.
"I think one of the many advantages of the proposal we are putting forward in the policy document is that it is a credible and realistic and achievable step that we could secure for the future of the country.
"That's one of the reasons why I think it is such an important step forward."
'Unarmed boats'
He added: "What is being recommended in the policy paper is a proposition which is credible and deliverable and which the party can argue for at the next election, but also in any discussions that might follow the election. I think that's a crucially important point."
The Lib Dem policy motion proposes "going to sea only with unarmed missiles and storing a reduced stockpile of warheads for redeployment within a specified timeframe".
But more constant patrols could be resumed for limited periods when "a deteriorating security picture demands this".
Baroness Falkner, co-chair of the Lib Dem backbench international affairs committee, ridiculed the policy, saying: "How does a posture of sending out boats unarmed actually deliver credibility?
"We say that we will send out boats with a public declaration that they will not be armed and that's what we will do and then occasionally, as the world gets tenser, as potentially a crisis situation approaches, we will send two guys up a hill to [nuclear storage facility] Coulport to get down some warheads, run down the mountain with them, stick them into batteries, get the boats out of the Clyde - never mind the fact an aggressor might target you in the Clyde - and then a couple of weeks to get out into international waters and, if you are talking about China, you've still got a long way to go.
"Crisis in my mind usually denotes crisis, as in Cuban missile crisis, it doesn't normally denote six months of time before you can actually do what you are planning to do."
She acknowledged that the Cold War had ended but added: "I don't think that sending out a boat that you declare is unarmed for nine months in a year or five years out of six is going to make Mr Putin quake in his boots."
Mr Alexander replied: "This proposition that a nuclear threat from another nuclear weapons state, overnight, out of the blue, to be a threat to the United Kingdom, is not supported by any analysis that I have seen."