Conservative backbench MPs urge halt to Army reductions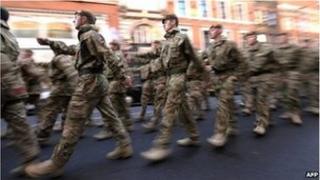 Cutting a fifth of the Army's full-time soldiers is a "high risk" strategy that could harm British military capabilities, a group of Conservative MPs has warned the defence secretary.
Some 25 backbenchers wrote to Philip Hammond urging him to stop disbanding units, the Sunday Telegraph reported.
They also expressed concern the plan to replace regular troops with reservists was struggling due to poor recruitment.
The MoD said it was confident of signing up the people it needed.
The government's plan for the future of the military involves cutting the regular Army from 102,000 to 82,000 and increasing the number of reservists - the Army Reserve, formerly known as the Territorial Army - by 11,000.
'Uncertain world'
The Ministry of Defence confirmed it had received the letter, organised by backbencher John Baron.
In it, the MPs urged the government to stop cuts to regular units "at the very least... until we are sure that the Army Reserve plans will work" - the paper reported.
They said the current strategy was "clearly born of financial necessity and not strategic design", and was "high-risk in this increasingly uncertain world".
"We suggest that the government's reservist plans are already having a distorting effect on the ground," they added.
"Well-recruited battalions are being disbanded whilst more poorly-recruited - and therefore expensive - battalions are being preserved. Such a policy simply reinforces failure."
Mr Baron said the letter had been prompted by recent reports that the Army Reserve was already missing its recruitment targets.
'Tough decisions'
But the MoD insisted it was confident it would get enough reservists.
An MoD spokesman said: "Tough decisions had to be taken to tackle the multi-billion pound deficit left behind in defence by the previous government.
"We are reshaping our armed forces to ensure they are properly equipped and more adaptable to future challenges and threats.
"To bring us better into line with our closest allies, who make much more use of reserve forces, we are investing £1.8bn in more modern equipment, increased training and incentives as we build a fully integrated Army with regulars and reserves training and operating alongside each other.
"The Army is confident of its ability to increase the Army Reserve from a trained strength of 19,000 to 30,000."