Vince Cable favourite for Lib Dem party leadership - BBC poll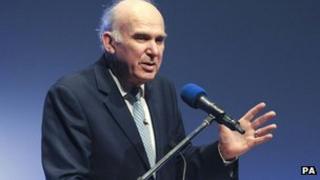 Business Secretary Vince Cable is the most popular candidate among Lib Dem councillors to succeed Nick Clegg as party leader, a BBC survey says.
In BBC One's Sunday Politics poll of more than 500 Lib Dem councillors, 38% said he would make the best successor.
More than a quarter backed party president, Tim Farron, and a fifth Lib Dem cabinet minister, Danny Alexander.
Lib Dem deputy leader Simon Hughes defended Mr Clegg's position and his performance as deputy prime minister.
The councillors also favoured a coalition with Labour in the event of hung Parliament after the next general election.
According to the survey - carried out by ComRes - councillors preferred this option by a ratio of two to one, with Labour preferred by 38% and the Conservatives by 16%. Almost a quarter (23%) said neither party.
Mr Hughes said the Lib Dems entered government under difficult circumstances and people respected them for sticking to their promise to see out the five-year term of office.
He said: "There is no plan by Nick to stand down and there is no plan by anybody else to seek to push him out.
"We will hope and believe that between now and the next election, we can win the case with the British electorate that will give us the same level or the same sort of level of support as last time on our record."
Approval rating
Other Lib Dem figures favoured by respondents included Jo Swinson with 7% of the vote, Ed Davey with 6%, and Steve Webb with 5%.
On policy, 86% supported a new tax on expensive properties - sometimes known as a "mansion tax" - specifically on homes valued at more than £2m.
Elsewhere, 72% backed scrapping the UK's Trident nuclear deterrent, and 70% support reinstating the 50p top rate of income tax on incomes above £150,000.
Some 45% supported a ban on the wearing of a burka in places such as schools and airports, with 38% opposing such a ban. A third backed the scrapping of Page 3 pictures but 46% were against.
The results of the survey of 580 councillors in England and Wales for BBC One's Sunday Politics programme came as Liberal Democrats gathered in Glasgow for the party's annual conference.
In a separate survey of almost 700 party members for the Independent on Sunday, Mr Cable topped approval ratings at 77%, compared with party leader Mr Clegg at 47%.
'Shared goal'
The paper's survey suggested some 39% favoured a coalition with Labour after 2015, and 15% with the Tories.
Employment minister Jo Swinson told the paper that a partnership with Labour would not be impossible.
She said: "Working in a mature and adult way where you recognise what your shared goal is, that is not something which I think would be particularly more difficult with Labour than it is with the Conservatives."
On the first day of the conference, Mr Clegg told delegates that the Liberal Democrats were the "only authentic party of jobs".
He also unveiled plans for a 5p charge on plastic bags from shops in England.