Greens gear up for European election test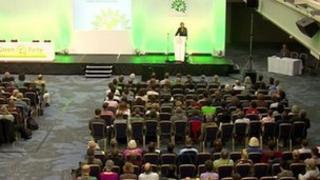 A quirk of the minor parties' conferences are the wonderful juxtapositions.
The lobby of the Brighton Metropole hotel on Friday afternoon had a conference registration desk manned by an activist wearing a fluorescent yellow jacket.
It also had a garishly pink ensemble that announced itself as "Alex's hen do" checking in for the weekend.
Natalie Bennett, the Australian-born leader of the Green Party of England and Wales, checked in here too with a defiantly and proudly left wing speech.
What she called the "government's austerity agenda" was "mindless".
The privatisation of the Royal Mail, she said, was a mistake.
The Conservatives, Labour and the Liberal Democrats "virtually indistinguishable neo-liberal parties".
But her sharpest criticism what what she saw as the privatisation of the NHS.
'We will not rest until we've expelled every last corporate bloodsucker from our NHS," Ms Bennett said.
Ms Bennett, who isn't a councillor, isn't an MEP and isn't an MP, took over as party leader from the Greens' only MP, Caroline Lucas, a year ago.
Make no mistake: Caroline Lucas is still the star turn here.
Where Natalie Bennett remains a faltering speaker, Caroline Lucas is assured, the darling of the party faithful.
But let me introduce someone else who is getting quite a few mentions here.
His name is Nigel Farage, the leader of the UK Independence Party.
Mention him and the facial expression you're met with is one of crumpled disgust.
Natalie Bennett gave him a name check in her speech, dismissing Mr Farage as "just waving a pint and a cigarette and grinning".
And yet if you take a look at the conference agenda for Saturday, there is a session asking: "How should Greens break into mass popular consciousness as UKIP have done?"
That crumpled disgust is an instinctive distaste from many for what they see as UKIP's crude populism.
And yet there is a reluctant acknowledgement for some that they must be doing something right.
On the face of it, the two parties are a million miles apart.
And yet here are two outfits, both proudly anti-establishment, both courting the "all the rest of them have had a go and have been useless" vote.
And whilst both have struggled in the winner takes all races for Westminster seats, so often the crusher of dreams for the smaller parties, they're both gearing up for an election where they do win.
The European elections next spring will be a big test for them both: UKIP hoping to win the biggest number of seats in the UK; the Greens hoping to build on the two seats they've held since 1999.
Both will hope to appeal to a taste for something different and the anti-politics mood.
It's game on: They're campaigning already.