Hague ridicules Labour's claim for credit over Syria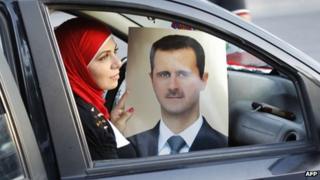 A Labour suggestion that UK MPs averted a US military strike on Syria has been laughed off by William Hague.
The shadow foreign secretary had said it was "abundantly clear" a recent parliamentary vote against British involvement had stopped the attack.
But, updating MPs on the crisis, Mr Hague called the claim "extraordinary".
It comes as international wrangling continues over how to respond to a deadly poison gas attack in Syria last month.
'Self-obsessed'
Labour's Douglas Alexander had suggested a US strike would have happened by now "if the motion had been passed".
He suggested the "diplomatic path" now advocated by the foreign secretary "would never have been reached".
But Mr Hague ridiculed the claim as "self-obsessed"
"It's like the story of the cockerel that thought its crowing brought about the dawn," he said, referring to the opposition's vote against a government motion that could have paved the way for UK military involvement.
He was addressing the Commons before Westminster breaks for the month so MPs can attend their party conferences.
He told Parliament a Russian plan to put Syria's chemical weapons under international control could avert a military strike.
"This initiative has the potential to remove the threat of chemical weapons without the use of force," the foreign secretary added.
He said the the proposal must be "taken seriously", but struck a note of caution, warning: "This is a regime that has lied for years about possessing chemical weapons, that still denies that it has used them."
Meanwhile the US continued to press for an international response to a suspected sarin gas attack last month.
Hundreds of people were killed in the atrocity, which America and the UK have blamed on Syrian government forces.
Writing in the New York Times Russian President Vladimir Putin reiterated Moscow's belief the opposition was behind the attack "to provoke intervention by their powerful foreign patrons".
But Mr Hague told MPs "all the evidence continues to point in one direction", adding: "The international consensus that the regime was responsible is growing."