Lib Dems at risk of 'moral conformity' - MP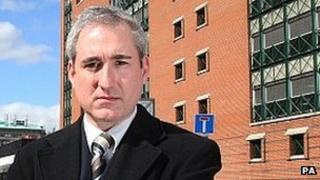 The Liberal Democrats are at risk of becoming a party of "moral conformists" where people of faith do not "feel comfortable", an MP has suggested.
Greg Mulholland said there was a "dangerous drift" in the party towards a view that faith was a subject for private worship and not for politics.
Religious views should be given equal standing besides secular ones, he said.
He was one of a handful of Lib Dem MPs not to support plans to legalise gay marriage in England and Wales.
Mr Mulholland abstained in key votes during the passage of the bill paving the way for same-sex marriages earlier this year, saying different faiths should be able to decide how to define marriage and who the institution should be open to.
'Received wisdom'
Lib Dem Sarah Teather, one of the four MPs who voted against gay marriage on faith grounds, recently said she would not stand as an MP again.
Mr Mulholland's comments come ahead of the start of the Lib Dem conference on Saturday and the publication of a new book - Liberal Democrats Do God - to which the Leeds North West MP has contributed.
In the book, he says there is a "received wisdom" among some MPs and party activists that people "should believe what we believe when it comes to moral issues or issues of conscience or you are not a Liberal Democrat".
The MP said he defended the right of anyone to take the view that religion was "bunkum and nonsense" and to be able to express that opinion in public without fear of prosecution.
But he said there had been a move in his party away from "tolerance, of acceptance of religions and faiths, alongside secular belief systems like humanism, towards a moral conformity" which believed "certain views are part of who we are and that many faith-based Christian views are rather something to be reserved for private worship that should be firmly kept out of political arena".
'Broad appeal'
Writing in the Lib Dem Voice website, he urged the party to put freedom of conscience "back at the centre" of the liberalism it espoused and which he said it was historically associated with.
"If this trend continues, the Liberal Democrats could no longer be seen as a place where people of faith feel comfortable and if these people are pushed out it will be a tragedy not just for all Christian liberals who would no longer have a home," he added.
"But also (it would be) damaging to a party that wants - and needs - to have a broad appeal electorally".
Mr Mulholland said he was not a liberal in spite of his Christian faith but because of his faith and anyone who "denied me my right to believe in Jesus Christ is denying me of my right to believe in liberalism".
In an interview in 2007, Lib Dem leader Nick Clegg said he did not believe in God but he has stressed he respects those who hold religious views and that he is happy for his children - whose mother is Spanish - to be brought up as Catholics.
Last year, Conservative minister Baroness Warsi warned that Britain was under threat from a rising tide of "militant secularisation" and religion was being "sidelined, marginalised and downgraded" in public life.