Universal Credit: Top civil servant defends handling of welfare plan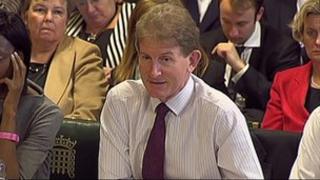 The top civil servant at the Department of Work and Pensions has rejected suggestions the Universal Credit was launched "without a plan".
Robert Devereux told the Public Accounts Committee the strategy behind the welfare policy was "very clear".
But it was apparent by July 2012 that problems had multiplied and officials could not longer "grit their teeth and work our way through", he told MPs.
Labour's Margaret Hodge said he should be held accountable for the problems.
Ministers have defended the plan to consolidate six separate working age benefits into a single payment to increase incentives for work after what MPs said was a "damning" report by the public spending watchdog into how the project has been handled since 2010.
'Pretty basic'
The National Audit Office said there had been weak management and inefficient financial controls - although officials insist these have been addressed since a "reset" of the programme at the start of the year.
Ms Hodge, who chairs the cross-party committee, said a "blank cheque" had been given to suppliers, officials had failed "to keep ministers properly informed" and "large chunks of the IT did not work".
"It is pretty basic," she told Mr Devereux. "You did not have a business plan. You did not have a strategy. People did not know what they were doing... you must be accountable for this."
Although officials believed they needed "to do more to shape what was going on in the strategy space," Mr Devereux told MPs "it did not feel to me as if the entire thing was happening without a plan".
The government's white paper setting out the key objectives of the programme and how to go about them was "very clear", he added.
'Best available'
Asked when he was first aware that there were serious problems with implementation, Mr Devereux said there was not a single "point of clarity" but an internal report in the summer of 2012 had made clear the "bow wave of unresolved issues was simply intractable".
"The message in that review, the critical thing for me and the secretary of state, was that this cannot just continue in a 'grit our teeth and work our way through - which we do on all of our programmes - something has to change."
Lib Dem MP Ian Swales said the fact there had been 19 different reviews of the project suggested top officials were not "connected".
But Mr Devereux rejected suggestions that he had not had sufficient day-to-day control of the project, saying he met senior officials in charge of its implementation "every two or three weeks".
The "best available" people were running the project, he told MPs, although he accepted there was a "let's punch through mentality" and the management team was changed in 2012 once it became clear that a different, more reflective approach was needed.
2017 target
The national rollout of Universal Credit for new claimants had been due to begin next month - but has been delayed with six further pilots taking place instead.
On Tuesday Prime Minister David Cameron said the government should "not be religious" about the timings - including the new target to have all claimants on Universal Credit by 2017.
Also giving evidence, the head of the government's Major Projects Authority, which conducted a Cabinet Office-led review of the project earlier this year, said it was realistic for the project to be completed on time by 2017.
"I believe it is feasible to deliver this in the original timescales we talked about," Dr Norma Wood told MPs.
"Properly constructed, following the blueprint principles we adopted and being sure the software is developed, 2017 is still feasible."
However, she said a "substantial" share of the £300m spent on computer software, hardware and other IT-related expenditure could end up being written off. So far, ministers have admitted that £34m has been wasted.
The Deputy Director of Universal Credit, Howard Shiplee - who started in the role 16 weeks ago - said he was not going to make any commitment until he had finished the review work he was doing.