Child Support Agency success celebrated before it goes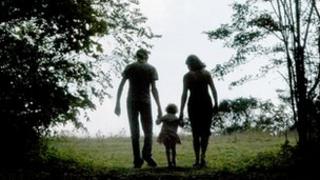 Ministers have hailed record success rates at the Child Support Agency - months away from scrapping it.
More parents than ever are contributing to their children's upbringing, the government said.
But from next year the CSA is being replaced and parents encouraged to make their own maintenance arrangements.
Work and pensions minister Steve Webb said that over 80% of separated families using the CSA are paying towards their children.
This suggests the CSA's success rate is up from two in every three parents five years ago.
But Mr Webb said that what the figures actually show is that "with a little help and support, thousands of parents could be coming to their own flexible arrangements for their children".
"Ultimately, this is better for parents and children alike. Britain has turned an important corner in recent years in becoming a country where taking financial responsibility for your children after a break up is the normal thing to do", he said in a speech.
"Those parents who think otherwise are a small and dwindling minority. What we're trying to do is to channel that commitment to empower parents to take control of their own lives and come to their own family-based arrangements to support their children."
'Communicate better'
The CSA was set up in the early 1990s to calculate and enforce maintenance payments from parents who do not have sole care of their children.
For the agency to get involved, one of the parents must request it to do so.
But in what Mr Webb described as the biggest shake-up of the child support system "for a generation", it is due to be replaced by the end of 2013 with a Child Maintenance Service to deal only with the most intractable cases.
"What we're trying to do is... empower parents to take control of their own lives and come to their own family-based arrangements to support their children," he said.
In a speech to the Children and Young People's Conference in London the Lib Dem minister added that the government is spending "up to £20m" in projects to help estranged parents "communicate better, work together and support their children."
A work and pensions spokesman added: "This is not so much a question of the success of failure of the CSA, it's more about parents taking financial responsibility for their children more seriously."
He said more than half of parents involved with the CSA said they would like to come to their own arrangements.
'Misleading picture'
But lone parents' charity Gingerbread said the government's figures painted a "misleading picture" of the state of child maintenance by "glossing over hundreds of thousands of missed payments for children".
Gingerbread chief executive Fiona Weir said figures released earlier this year showed "one in five of the parents the government is reporting as 'paying' are in fact not contributing the full maintenance they owe for their children, and could still be counted as paying even if they make as little as one partial payment every three months".
She added: "The government is also making a big assumption in these figures - that where payments are made directly from parent to parent, they are always made in full. In fact, the DWP [Department for Work and Pensions] has no evidence of this.
"Many families need government help to get maintenance to the children it is owed to - in half of cases where families who get payments in full via the CSA, the agency is collecting money directly from wages or benefits.
"Child maintenance is a lifeline for families struggling to make ends meet - helping to pay for the essentials that every child needs.
"With so much inaccuracy in these figures, government claims that the system is a success are somewhat exaggerated."