Mortgage scheme could lead to house price bubble warns Cable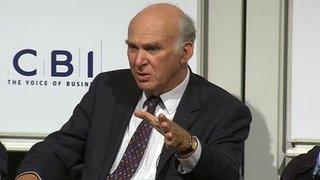 A government scheme designed to boost the housing market could lead to a new price bubble, Business Secretary Vince Cable has warned.
The Lib Dem minister has called for a rethink of plans to provide government guarantees for low-deposit mortgages beginning in January.
He said there were already signs of "serious housing inflationary pressures" in parts of the country.
But Downing Street said the plan would remove "obstacles" to aspiring buyers.
The Help to Buy Scheme, announced in March's Budget, is designed to help first-time buyers get on the property ladder and enable existing homeowners to "trade up" to larger properties by giving banks greater confidence to lend.
Under the second phase of the scheme, the government will guarantee a proportion of the loan for purchases of up to £600,000 for those able to put down a deposit of between 5% and 20%.
The assistance, championed by Chancellor George Osborne, will be available for three years.
Some economists have questioned whether such a major government intervention in the mortgage market - on top of existing equity loans for first-time buyers - is justified, saying it may lead to an unsustainable increase in prices.
Recent indicators have suggested that prices are already increasing at their fastest rate for almost seven years - boosted by competitive mortgage rates and continuing imbalances of supply and demand.
Mr Cable told Sky News that ministers should "certainly think about how it [Help to Buy] should come into effect, indeed whether it should come into effect in the light of changing market conditions".
"We don't want a new housing bubble," he added.
"In many parts of the country it clearly isn't a problem. If you are in Northern Ireland or Wales or indeed the East Midlands you would wonder what all this is about,"
"But certainly in London and the South East, in the north-east of Scotland, in other areas, there are serious housing inflationary pressures."
The chief executive of Barclays, Antony Jenkins, has said he is concerned about the potential for a "property-driven boom" and although the Bank of England is monitoring the state of the market carefully, "these things can be difficult to control".
But No 10 said the scheme would go ahead as planned.
"We are faced with a situation - because of the fall in availability of 90 to 95% loan-to-value mortgages - where many first-time buyers are faced with a real obstacle to making a home of their own," a spokesman said.
"It is important we address this issue."
In an upbeat speech on the economy earlier in the week, Mr Osborne said 95% mortgages were not "weapons of mass financial destruction" but legitimate products that enabled those who could not save enough for a larger deposit to buy a home.
Mr Cable has suggested an "uncontrolled" rise in house prices is one of the risks to a sustainable long-term economic recovery but the Council of Mortgage Lenders has described the pace of housing activity - compared with pre-2007 boom levels - as "moderate".
Speaking at a CBI conference at Warwick University on Wednesday, Mr Cable said there were clear signs the economy was beginning to pick up but the upturn would only be "meaningful" when business had the confidence to increase levels of investment.
He also warned against complacency "generated by a few quarters of good economic data".
The CBI's director general, John Cridland, said there was "gathering momentum" in the economy but more needed to be done to correct the "profound economic imbalances which built up during the boom years", including developing a "coherent" industrial strategy.