Universal credit: Timetable not set in stone, says PM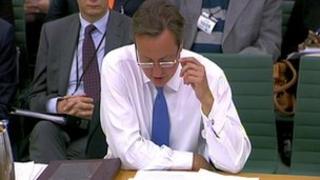 The prime minister has warned against being "religious" about the timetable for implementing one of the government's flagship welfare policies.
David Cameron said he was still aiming to replace six benefits with universal credit by 2017 as promised.
But he was less definite than cabinet colleague Iain Duncan Smith, who last week insisted the project would be delivered "within the timescale".
Mr Cameron was facing questions from senior MPs.
"I don't think we should be religious about timings but about the overall concept," he told the Commons Liaison Committee.
He said Mr Duncan Smith's Department for Work and Pensions (DWP) thought the target could still be met, but avoided explicitly agreeing with that view.
The DWP was "shooting for 2017", he added, stressing it was important to hold more trials and get the implementation right.
'Succeeding and progressing'
Last week the National Audit office published a scathing report on the government's plans for universal credit.
The new system replaces six key means-tested benefits with one payment that ministers say will ensure claimants would always be better-off if they were working.
But the project had been characterised by weak management, ineffective control and poor governance, the auditor's report found.
Mr Duncan Smith said problems had been solved and the benefit, currently being piloted, was "succeeding" and "progressing".
The work and pensions secretary was the driving force behind universal credit and he argued fiercely against the report's criticisms - calling them "historic".
"This programme will deliver on time and in budget," he told MPs in a bullish Commons performance last week.